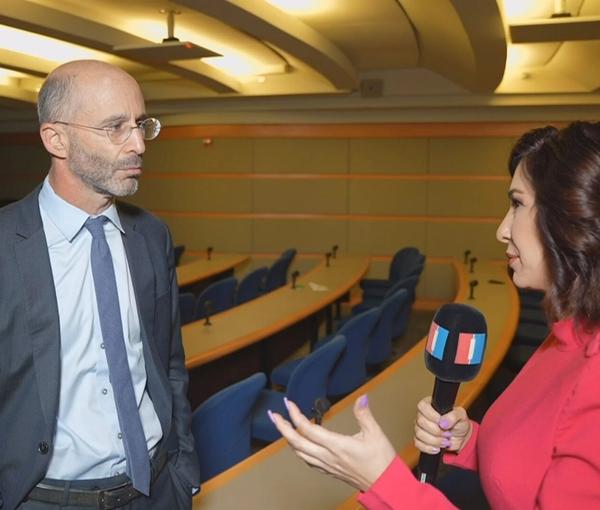 Exclusive: US Special Envoy Says He Chose The Wrong Words On Iran Protests
US Special Envoy for Iran, Rob Malley told Iran International Monday that a tweet he sent on Iran protests, which led to negative reactions, "was poorly worded."
"It is not up to me; it is not up to the US government what the brave women and men who have been demonstrating in Iran want. It is up to them," Malley told our correspondent Samira Gharaei.
In a tweet earlier on Sunday he had said that Iranians were protesting to have the Islamic Republic "respect their human rights and dignity."
Iranian activists objected to this sentence, saying Iranians have proven in the past five weeks that they reject the clerical regime and want a new, democratic government and not respect from an oppressive regime.
Malley went on to say in his interview that what the Biden Administration has been doing is voicing as strong a support as possible "for the fundamental rights of the Iranian people."
Asked about calls by some Iranians for him to resign, Malley said, "There always would be criticism of what we do…but we're gonna do what we can to support fundamental rights of the Iranian people. That's what I'm here to do and will continue doing."
Asked to comment on what is the US government's assessment about why Iranians are protesting and what is their goal, Malley avoided a clear answer, saying, "That is not up to us to decide…the Iranian people will make clear why they are angry at the regime…but they will speak for themselves."
The Biden Administration indirectly negotiated with Tehran for 17 months to revive the Obama-era nuclear deal known as the JCPOA. Many Iranian Americans who have been galvanized and mobilized by the protests feel that the administration might be hesitating to recognize the movement as one that rejects the Islamic Republic and aspires to replace the regime with a democratic form of government.
Although the administration has said that it is "not focused" on the nuclear talks anymore and is trying to help the Iranian people, some are still concerned that the shift might be just temporary and the US might sign a new nuclear deal with Iran, which would release tens of billions of dollars to an authoritarian government that will use the money to suppress the protests.
But Malley emphasized that the Biden team is determined to impose sanctions on Iranian officials who are responsible for violence against the people and reiterated that more designations are on the way.
More US sanctions will further reduce the chances for a deal, as Tehran has already demanded older non-nuclear sanctions to be removed as a pre-condition.
But the lead US diplomat on Iran made it clear that Washington has not been in touch with Tehran despite claims by Iran's foreign minister that the negotiations are ongoing with messages being exchanged.
"Right now, our message would be; number one, stop killing your own people, and number two, stop providing weapons to Russia to kill innocent Ukrainians."
The US, its European allies and Ukraine say that Russia is using Iranian supplied drones to attack civilians and civilian infrastructure in Ukraine. Already, both US and European countries have announced sanctions related to the drone issue.
Malley also reiterated that the "JCPOA is not on the agenda right now" and the US is focused on the brutal crackdown by the Iranian regime on its people and its supply of drones to Russia that are used against civilians.