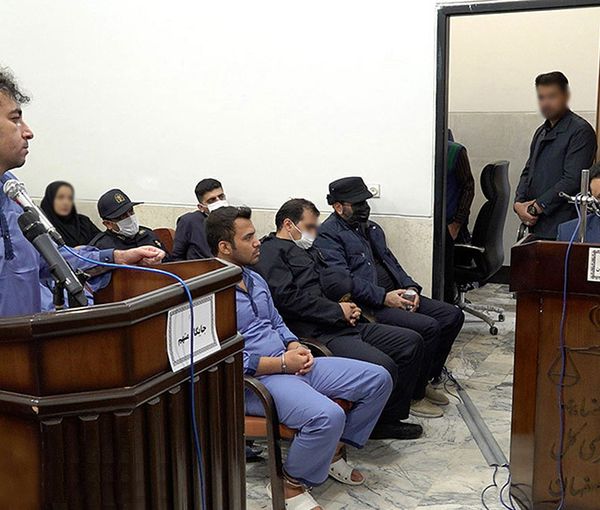 Three More Protesters Sentenced To Death In Iran
Amid outrage over the execution of two protesters Saturday, Iran's judiciary said Monday that a court has sentenced three others to death for "war against God".
The three men – Saleh Mir-Hashemi, Majid Kazemi, and Saeed Yaghoubi –were charged with 'moharebeh', meaning "war against God", a vague religious concept, for their alleged role in the shooting of three government agents during a day of protests at Khane-ye Esfahan neighborhood on November 16.
The 'Khane-ye Esfahan case' involves several other protesters. Another defendant, footballer Amir Nasr-Azadani, was sentenced to a total of twenty-one years in prison on charges of "aiding in the war against God and "assembly and collusion leading to security-related crimes".
The sentences can be appealed, the judiciary said, but in other cases involving protesters, the appeal process has not overturned verdicts in sham trials.
The convictions were based on confessions made in the absence of lawyers appointed by the accused. As in many other security-related cases, the judiciary has published videos in which the accused confess to the crimes they were charged with.
Three protesters who are sentenced to death
Many security prisoners who have made such confessions, usually for television audiences, later recanted saying they were made under torture and duress.
In 2019, Mazyar Ebrahimi, a businessman, disclosed how he was tortured non-stop for forty days by the intelligence ministry into confessing to spying for Israel and assassinating Iranian nuclear scientists between 2010 and 2012.
Ebrahimi's confessions were broadcast by the state broadcaster (IRIB). He also said the judge who tried him and others on these bogus charges, Abolghasem Salavati constantly threatened them with a death sentence to make them accept "to cooperate" with their interrogators and accept to play in the script they had written.
Salavati has recently sentenced several protesters, including Mohammad Beroghani and Saman Seydi, to death.
In a rare incident, Ebrahimi and others were exonerated when the rival IRGC intelligence found discrepancies in the testimonies fabricated by the intelligence ministry.
The Islamic Republic has so far hanged four protesters: Mohsen Mirshekari in Tehran and Majidreza Rahnavard in Mashhad on December 12, and Mohammad-Mehdi Karami and Seyed Mohammad Hosseini in Karaj on Saturday.
"Mohammad-Mehdi Karami and [Seyed] Mohammad Hosseini were both executed in gross violation of the law and their right to have appointed attorneys," prominent human rights lawyer Nasrin Sotoudeh said in a Facebook post Monday.
"The right to freely choose a lawyer is one of the most important reasons for the faultiness of these [death and prison] sentences," she wrote, adding that hasty executions are "sheer murder" by lack of due process in the trials.
Hosseini's lawyer, Ali Sharifzadeh-Ardakani, who was only allowed to represent him after the trial said that the judiciary carried out the executions so hastily that they had no time for taking any legal action in these cases. "I was on my way to the Supreme Court [to apply for a re-trial] when I heard my client had been executed," he said in a tweet Saturday.
Sharifzadeh-Ardakani was summoned by the public and revolutionary prosecutor of Karaj on Tuesday, a day after his client was hanged, charged with "propaganda against the regime" for speaking about his client's tortures. He was released on bail on the same day.
"I met with Seyed-Mohammad [Hosseini] at Karaj Prison [for the first time]. He cried through his account of tortures, being beaten with tied hands and legs and blindfolded, to being kicked in the head and losing consciousness, the soles of his feet beaten with an iron rod to being tased in different parts of the body," Sharifzadeh had said in a tweet on December 18.
Mohammad Aghasi, the lawyer of Mohammad-Mehdi Karami, also said in an interview that "They executed my client so quickly that they didn't even give him a chance to write a petition for retrial."