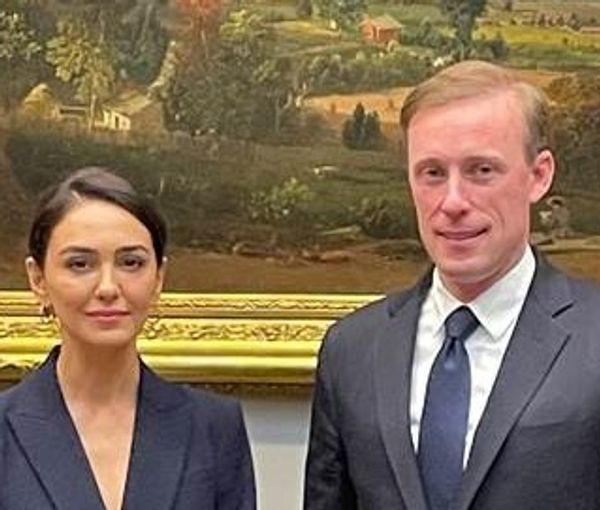 Biden, Top US Officials Voice Support For Iran Protests
US President Joe Biden and his top officials in a flurry of meetings and statements on Friday pledged support to Iranians protesting for their basic rights.
Joe Biden, visiting a college in Irvine, California said he is "stunned" by the popular protests and that the US stands with Iran's "brave women".
As a group of protesters were standing with "Free Iran" signs, the President said, "I want you to know that we stand with the citizens, the brave women of Iran." He continued, "It stunned me what it awakened in Iran. It awakened something that I don't think will be quieted for a long, long time."
Vice President Kamala Harris, US National Security Adviser Jake Sullivan and Secretary of State Antony Blinken in Washington DC also met separately with Iranian civil society activists based abroad, earlier in the day.
Three Iranian women led by Nazanin Boniadi, an Iranian-born British actress and activist, met with Blinken and other State Department officials to discuss how the United States can support Iranians who have been protesting for more than four weeks.
After the meeting, Blinken tweeted, "Today, I met with civil society partners to discuss what more the U.S. can do to support the people of Iran, particularly its brave women and girls."
Boniadi in reply tweeted, "I am encouraged by your openness to hearing the democratic aspirations of the people of Iran and we look forward to engaging on next steps to support Iranian civil society to that end."
The Biden Administration had focused on reviving the Obama-era nuclear deal known as the JCPOA since assuming office, but almost 18 months of indirect talks with Tehran failed to produce an agreement when the protests began in mid-September after Mahsa Amini, a young woman was killed in 'morality' police custody.
Iranians living abroad, particularly in the United States were outraged and began to campaign for world attention to Amini's case, which symbolized the degree of human rights abuses perpetrated by the Islamic Republic's clerical-military regime. Mahsa Amini's hashtag on Twitter quickly took off as no other issue before, reaching hundreds of millions of responses.
The administration's first response was relatively quick, sanctioning Iran's 'morality police' and listing seven senior officials one week after Amini's death and a few days after large protests broke out. It also moved to ease restrictions on Internet-related technology for Iranians as the government often shut off access to control flow of information about the protests.
But a question lingered in the minds of many Iranians about the administration's policy to return to the nuclear deal that former President Donald Trump had abandoned in 2018 and imposed heavy economic sanctions on Tehran. Although talks are in deadlock, a potential new deal would release tens of billions of dollars to the authoritarian government that it can use to suppress its people, particularly women.
The administration came up with a new position this week, saying it is not "focused" on reviving the JCPOA, and its attention is on the protests. Friday's meetings with Iranian activists followed that apparent shift in its Iran policy.
But many Iranians have been demanding a clear break with the nuclear talks that would forestall any lifting of sanctions and release of billions of dollars in frozen Iranian funds in foreign banks.