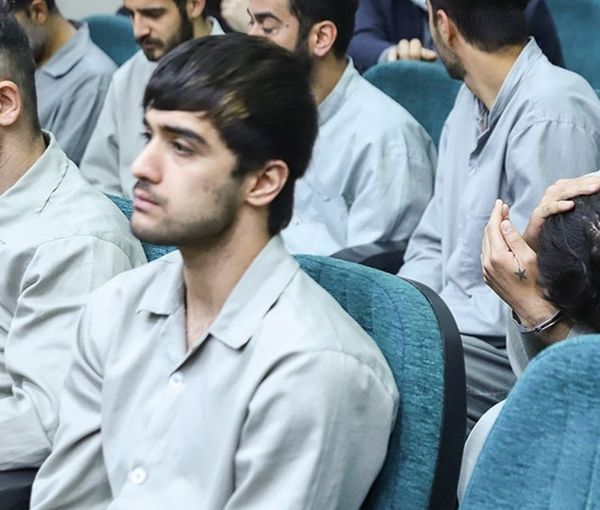 World Abhors Islamic Republic's Execution Of Protesters
The hanging of two more protesters for their alleged role in the killing of a government agent, has led to yet another global outcry against the Iranian regime. 
US State Department spokesman Ned Price said that Washington condemns the Islamic Republic's "sham trials and execution of Mohammad Mehdi Karami and Mohammad Hosseini in the strongest terms," noting that "These executions are a key component of the regime's effort to suppress protests."
Price also added that "We continue to work with partners to pursue accountability for Iran's brutal crackdown." His remarks echoed a similar one by US Special Envoy for Iran Rob Malley who said, "Appalled by the regime's execution of two more young Iranians after sham trials. These executions must stop. We and others across the globe will continue to hold Iran's leadership accountable."
Representative Claudia Tenney (R-NY) also condemned the Iranian regime's brutal and unlawful execution of two innocent young men, saying it "should be a final straw for anyone who still thinks this regime is redeemable. The regime in Iran terrorizes its own people and the world. It should continue to face economic and diplomatic pressure."
Member of the Belgian Parliament Darya Safai attended a protest rally outside the Islamic Republic's embassy in Brussels in which she described the regime as the "occupiers of Iran." She also tweeted about a mourning ceremony by friends of one of the hanged protesters, saying the regime would not let people say goodbye to the bodies of their loved ones. "As inhumane they killed him, they also buried him in an inhumane manner in complete silence," she said. 
Denouncing the execution of protesters in Iran, the Australian Department of Foreign Affairs told Iran International in a statement that Canberra calls on the Islamic Republic to immediately halt all executions and will continue to work through the multilateral system and with partners to hold Iran to account. Australia opposes death penalty... for all people."
French Foreign Minister Catherine Colonna described the executions as "appalling," adding that France recalls its opposition to the death penalty, in all places and in all circumstances. French Senators have also tabled a resolution calling on the EU for ending nuclear negotiations with Iran, designating the Revolutionary Guards (IRGC) as a terrorist organization, as well as several other measures. 
The Swiss Federal Department of Foreign Affairs also condemned the execution and emphasized its opposition to the death penalty everywhere and under any circumstances.
Canadian Foreign Minister Mélanie Joly also denounced the executions, saying that "two more lives lost to senseless executions from the Iranian regime." Calling on the regime to put an end to such brutal and inhumane sentences, she expressed solidarity with Iranians who have a right to their human rights.
Mohammad Hosseini's grave after his quick burial on January 7, 2023
Golriz Ghahraman, a member of New Zealand's parliament with Iranian roots, said, "A generation of Iranians is being murdered to protect the power of a self-declared Grand Ayatollah and the stolen wealth of his cronies."
She addressed Western leaders, saying, "This is a moment in history, Iranians will win, but right now you are not on the side of freedom." 
The European Union in a statement Saturday condemned the execution of Karami and Hosseini and called the executions "yet another sign of the Iranian authorities' violent repression of civilian demonstrations" and urged Iranian government to "strictly abide by their obligations enshrined in the International Covenant on Civil and Political Rights" to which Iran is a party.
Two other protestors named Mohsen Shekari and Majidreza Rahnavard were executed in Tehran and Mashhad in December.
Following mass arrests of protestors in the last four months and hasty death sentences issued for 11 people in sham trials, human rights activists and some foreign officials have been calling for weeks to hold the Islamic Republic accountable.