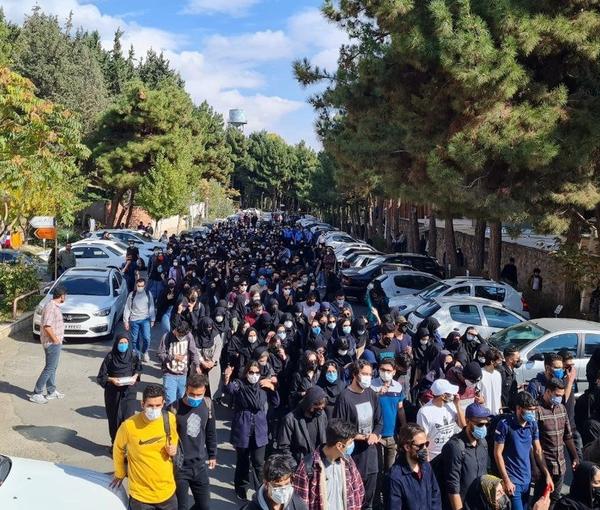 For Iran's Ruling Clerics There Is No 'Dialogue' With Protesters
Although some Iranian officials occasionally call for a dialogue between the government and protesters, many observers in Iran and outside the country believe holding such a dialogue is extremely unlikely.
A very clear indication of the impossible situation took place Saturday night when the state television in Iran placed 'reformist' journalist Mohammad Ghoochani, in front of ultraconservative cleric Qasem Ravanbakhsh for a dialogue about the situation that has brought millions of angry Iranians face to face with a heavily armed hardliner government.
Reformist daily Etemad on Monday wrote in a commentary on the program that Ravanbakhsh clearly "damned those who refuse to accept ruling clerics' violent behavior!" The daily concluded that "belief in dialogue in the ruling political faction is either too weak or non-existent."
Ultraconservative cleric Qasem Ravanbakhsh
Trying to convince the cleric to have sympathy with young Iranian protesters, Ghoochani asked Ravanbakhsh whether he feels sad for the death of Mahsa Amini, the young woman who was murdered in police custody in mid-September and her death triggered the current wave of nationwide uprising. The ultraconservative cleric who happens to have four daughters, responded: "No. I do not feel any sadness. Many girls die every day and Mahsa was one of them." Etemad slammed Ravanbakhsh's annoying rhetoric calling it "a behavior against religious principles."
Ravanbakhsh, the editor of Qom's hardliner weekly newspaper Parto, who has for two decades levelled all sorts of accusations against reform-minded politicians and activists in Iran, said this in cold blood while looking deep into the TV camera. His attitude defied the idea of bringing if not the people, at least the leading members of opposing political factions in Iran closer to each other.
Reformist journalist Mohammad Ghoochani
Ghoochani, who has been the editor of several reformist newspapers and magazines during the past two decades, was speechless before this man although he acknowledged that reformist parties in Iran act like a safety valve to release the explosive pressures in society. Iran's hardliners have banned nearly every publication Ghoochani used to publish. He is currently a political bureau member of the Centrist Executives of Construction Party and the editor of Agahi-ye No magazine, which has a pro-reform slant.
In another indication of Tehran's unpreparedness for holding dialogue with relatively open-minded activists took place last week when a debate between a reform-minded sociologist and another ultraconservative figure was turned into a monologue by the latter as the former was kicked out of the studio as soon as he went off-camera at the beginning of the debate.
Many, including Etemad's commentator believe that it is too late to begin a dialogue with angry protesters in the streets, and that dialogue should have started long ago, before the Iranian society became extremely polarized.
Lawmaker Mohammad-Hassan Asafari
Some Iranian politicians including lawmaker Mohammad-Hassan Asafari have claimed they have already "received" protesters in their offices and held dialogues with them, but in the absence of convincing evidence, and in view of the deep distrust between the people and government officials, it is doubtful if they have really held such meetings.
Meanwhile, as the article in Etemad pointed out, some Iranian officials who talk about the need to hold dialogue with protesters, put forward funny conditions such as "those taking part in the dialogue must not have been influenced by foreign media." This is obviously based on the assumption that "any protest, even by workers who demand their unpaid wages is planned by foreigners."