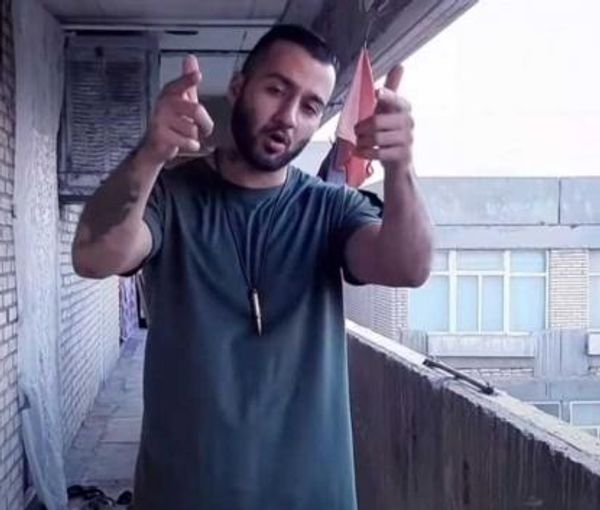 The Blood-Stained Blindfold Of Iran's Dissident Rapper Speaks Volumes
People close to Iranian dissident rapper Toomaj Salehi say state and hardliner media's claims that he was trying to flee Iran when he was arrested last week are baseless.
State and hardline media have claimed that Toomaj was arrested in western border areas while attempting to flee the country.
Toomaj used his social media influence to encourage protesters not to give up the streets and join strikes to topple the regime, although he had already been arrested once before. He also taught them ways to circumvent internet censorship. He was never allowed to release his music in Iran or hold concerts and connected with his fans only through online platforms such as YouTube.
Official Toomaj , the Twitter account which is now run by an administrator based outside Iran, refuted the claim saying he was arrested in his home province of Chaharmahal and Bakhtiari Province which is not anywhere near the border areas.
Photo published by state media of Toomaj Salehi after arrest
"We will come to the streets, every day and night, until Iran is freed. The streets are ours, we will take them back from you," Official Toomaj defiantly quoted one of his songs in a tweet after his arrest.
Toomaj's London-based cousin Azadeh Babadi told Iran International Monday that the family have found out he is being severely tortured to denounce the youth movement against the clerical rule.
"He knew he would be arrested but refused to leave the country," Babadi said via video link, adding that she had warned him about his safety in Iran and offered to help him get a visa to join her in London. The family want all Iranians to know that Toomaj believes they can only succeed in restoring the rights denied to them by remaining on the streets and continuing the protests to bring the regime down, she said.
"We will rise from the bottom and target the top of the pyramid," Toomaj's latest song released last week says and promises protesters' victory over the Islamic Republic.
In his politically charged songs such as "Buy a Rat Hole"(2021), Toomaj, a 32-year-old metalworker in Esfahan, spoke out against repression, injustice, poverty, and authorities' own corruption and impunity from prosecution.
The underground rapper's song harshly criticized the regime and decried its agents and supporters telling them it was time "to buy rat holes" to hide in because the time of retribution for their actions had arrived. "You are a murderer if you cover up murder. To cover up murder you must step in blood," he sang.
In September 2021 Toomaj's home in Esfahan was raided by twelve intelligence ministry agents and he was arrested. Thousands of Iranians on social media condemned his arrest and Amnesty International demanded his immediate release in a statement on September 17.
This time his fans are vowing to continue his path and stay on the streets as he wanted. "We swear on the blood on Toomaj's blindfold that we will take revenge for all the blood that you have shed," one of the rapper's fans tweeted Monday referring to a blood stain on the blindfold put over his eyes in a photo released by the state media.
"Please be his voice, as he has been the voice of his people suffering under the Islamic Republic's rule," exiled rapper Soroush Lashkari (Hichkas) who is known as the "father of Persian rap music" tweeted to his fans after Toomaj's arrest.
Iranian musicians of every genre must acquire permits to release their music or to hold concerts. Getting a permit largely depends on the lyrics and the overall activities of the artist rather than the genre itself but rap and rock music are generally frowned upon as Western influences and are not deemed fit for the Iranian public.
Even recording and releasing the types of music that political and religious authorities categorize as belonging to "degenerate Western culture" and "vulgar" on the internet is considered illegal.
In the past four decades top religious authorities have prevented musical instruments from being shown in action on state television although very reluctantly they have withheld objection to music being broadcast. Female singers are totally banned from publishing their work and concerts are allowed only for all female audiences or if they sing in a chorus.