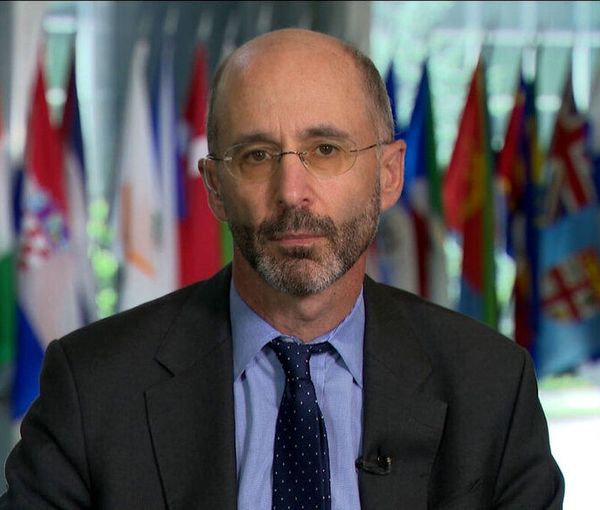 US Signals Policy Change On Iran While Critics Urge More Action
The US State Department said Wednesday that the Iran nuclear deal is "not our focus right now" amid popular protests, but it has done little to help Iranians.
The reality was apparent during department spokesperson Ned Price's Wednesday briefing, where reporters kept pressing him over the lack of progress in helping Iranians to get access to the Internet that the government blocks during protests to stifle the free flow of information.
As nationwide protests began Wednesday in Iran, the government shut down most Internet access in major cities. Washington reporters were aware of that and pressed Mr. Price for answers.
The fact is that there is very little the Administration or US technology companies can do to help connect Iranians to the Internet, at least in the near future. There are two major reasons for this.
First, gateways to Internet traffic are controlled by the government and if it decides to shut off mobile data connection or even home landlines during protests, there is hardly anything foreign entities can do to help.
Second, even if the Administration removes all impediments for US companies to sell software and hardware to Iranians, it would be an extremely difficult task to bypass Iranian government controls.
The Islamic Republic is an authoritarian regime, with 80 percent of the economy controlled by the government and the concept of business freedom is almost non-existent, except at some retail level. The government tightly controls all imports. That would block any attempt to export hardware to Iran.
In terms of software, most Iranians do not have the resources or the banking means to purchase a license from a foreign source or download software they need to pay for.
Free software can be made accessible by US or other international companies, but if the regime really wants to make it hard, it will designate procurement of such software a criminal offense and try to block access.
Apart from these difficulties, providing access to the Internet is a relatively small issue compared with the main problem, which is the use of brutal force by the government against its people.
The US has imposed sanctions on a few individuals since the protests began, but beyond that has not acted to penalize the clerical regime, even as its leader Ali Khamenei on Wednesday called for more repression against protests.
The statement by Price that the Biden Administration is not focused on reviving the Obama-era nuclear deal, which would provide tens of billions of dollars to the repressive government, was a signal well received by Iranians on social media. But many argue that the US should impose more sanctions and enforce existing ones more rigorously to pressure Tehran.
A report by The Sun on October 12 quoted several Washington sources as saying that "there is a growing rift between officials at the treasury department, who are urging Mr. Biden to intensify sanctions in support of protesters, and Mr. Malley, the special envoy who prizes a renewal of the 2015 nuclear deal above all."
An Iranian American community organization, NUFDI, wrote to Secretary of State Antony Blinken on October 11, asking for a major review of US Iran policy and personnel changes at the State Department, namely replacing Mr. Malley as US envoy. The group emphasized that the Administration needs an envoy to the Iranian people, not a diplomat focused on reviving the nuclear deal.