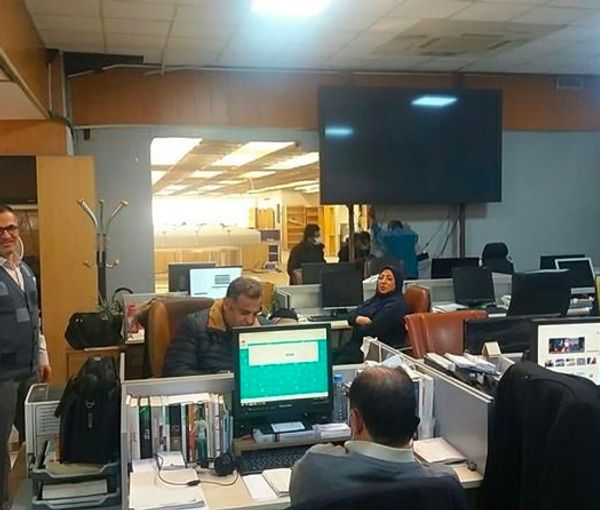 Exclusive: Iran State TV Shuts Bureaus Abroad, Fires Correspondents
In an exclusive report on Wednesday, Iran International TV broke the news about the imminent closure of most of Iranian state television's bureaus abroad.
The information acquired by Iran International said that the Islamic Republic of Iran Broadcasting organization (IRIB) might keep only two of its bureaus, in London and New York, and shut its offices in other capitals while also firing most of its correspondents abroad.
The news came only one day after Supreme Leader Ali Khamenei who supervises the organization and appoints its chief executive called for carrying out a global publicity stunt, which he named "vindication jihad" to explain his ideology and "vision" to the world.
IRIB has already terminated the contracts of some of its foreign correspondents. The IRIB correspondent in Ukraine joined IRIGC-linked Fars news agency immediately after his dismissal and started filing reports from Kyiv.
Until 2012, IRIB operated dozens of bureaus from the Far East to South America, but because of the financial crunch, resulting from differences between former President Mahmoud Ahmadinejad and IRIB's management at the time, most of those offices were closed between 2012 and 2014. The New York bureau is embedded in Iran's UN mission.
Meanwhile to save funds, IRIB has decided to use products from its external channels, Press TV (in English) and Al-Alam (in Arabic), in its domestic programs. The broadcaster has also reportedly consolidated its news gathering units in a bid to further centralize TV news dissemination.
IRGC influence growing
A recent Iran International report revealed that in the centralized system, IRGC intelligence officers rather than IRIB journalists are involved in the production of news programs.
The news service which used to be called the Central News Bureau was re-branded as the IRIB Newsroom. A couple of news bulletins including the notorious 20:30 slot on channel 2 are reportedly linked to the intelligence agencies.
Peyman Jebelli, head of IRIB
The Revolutionary Guard (IRGC) once operated the Al-Alam channel in Arabic and Ofogh channel in Persian, almost independent of the IRIB management although the channels have always been part of its media fleet. But since last year when Peyman Jebelli who is linked to Khamenei's office and IRGC took over as the organization's chief, the Guards effectively controls all of IRIB's more than fifty channels.
Reports from Tehran indicate that the changes are carried out by Jebelli's deputy Vahid Jalili, a brother of hardliner former nuclear negotiator Saeed Jalili and the organization's news director Alireza Khodabakhshi, who is also a close relative of Jalili.
As part of the changes, the Young Journalists' Club, a hardliner news outlet with links to the IRGC will merge with IRIB's Newsroom and the organization's rolling news channel IRINN (The Islamic Republic of Iran News Network aka Channel 6).
Meanwhile, information received by Iran International TV indicate that several reporters affiliated with IRGC who used to work with its Fars and Tasnim news agencies have been hired and are currently working as reporters, editors and advisors in various parts of the state television's news service.
It is still not known whether the new developments are part of measures to save money to cope with the overall financial crisis in Iran, or are part of policies to tighten government control. The organization was twice hacked during the past two weeks and its programs were taken off the air and replaced with dissident messages.
Many critics and political analysts have noted that IRIB's viewership has dramatically declined, and politicians have often expressed concern that the state TV is no longer the people's point of reference for news and current affairs. Apart from annoying constant spread of regime ideology, dull programming, strict control and censorship of the news, the proliferation of social media and uncensored news beamed into Iran by foreign-based satellite televisions have contributed to the gradual decline of its audience.