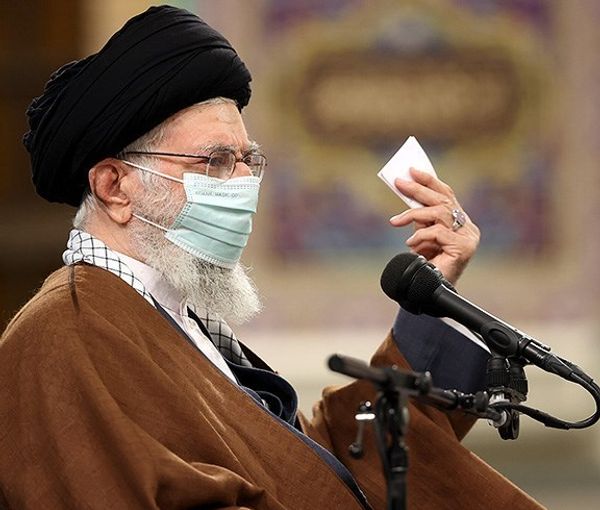 Iran Leader Orders 'Vindication Jihad,' Hybrid War Against Foes
Iran's Supreme Leader Ali Khamenei has called for a stronger effort to counter criticism and attacks against the Islamic Republic by using "hybrid warfare."
Multiple crises that the Iranian regime faces in the past four years have harmed its image domestically, while it had to deal with US sanctions, a reinvigorated opposition and regional foes.
Khamenei accused foreign-based and opposition media of distorting the truth about the Islamic Republic and ignoring its "achievements." He said "huge and epic works in the past few decades" across the economy, social matters, development, education, healthcare, industry, and other areas were not sufficiently recognized by the Iranian media.
The spread of social media in the country has also weakened the government's monopoly on information and amplified critical voices.
At an annual gathering of air force officers Tuesday, Khamenei made a speech whose themes The Times of Israel reported "directly parallel" remarks of an unnamed senior Israeli official who told reporters Monday that Israel was carrying out multifaceted, across-the-board efforts against Iran.
"The enemy's aggression represents hybrid warfare," Khamenei said. "That is, it includes economic, political, security, media and diplomatic aspects. Our response must be hybrid as well…We cannot constantly remain in a defensive position in the face of such joint hybrid warfare. We, too, should mount a hybrid attack in various fields…"
The Israeli official had explained Israel's goal as "weakening" Iran through ways that were "primarily economic" but included "a number of activities, financial, diplomatic, pre-emptory actions, covert and open, in cyberspace and other areas."
Israel, which has opposed the 2015 Iran nuclear deal, is widely believed responsible for a series of attacks on Iranian nuclear sites and for the killing in November 2020 of Iranian nuclear official Mohsen Fakhrizadeh.
'Vindication jihad'
"Each one of these is a topic for vindication jihad," he said, using the Quranic term for 'effort.' He added that "certain economic and welfare problems," which have been well highlighted in recent times by Iranian politicians from various camps, should not be allowed to undermine the progress made. "Against this media onslaught, vindication jihad is a definite and urgent religious duty," Khamenei insisted.
In recent years, Khamenei has applied the phrase 'vindication jihad' (jihad tabyyin) to efforts both in the media and on social-media platforms, and has referred to supporters and employees active in social media "soldiers of soft war." The term basically means propaganda efforts.
Khamenei using military terminology in his speech, mentioning "security" measures as part of "hybrid warfare. This might be a signal for more repression, especially against critics and journalists.
While foreign-funded television stations have long beamed into Iran and some opposition groups carry out social media 'trolling', Reporters Without Borders (RSF) say Iranian journalists are "constantly subjected to intimidation, arbitrary arrest and long jail sentences." RSF has said that at least 860 journalists and "citizen-journalists" have been prosecuted, arrested, imprisoned and in some cases executed since the 1979 Revolution.
In addition to media suppression, the Islamic Republic funds many news agencies and websites and has a monopoly on radio and television. It employs media networks such as Press TV which broadcasts in several languages worldwide including English, French, and Spanish as well Al-Alam TV in Arabic for propaganda outside Iran.
Khamenei's remarks can be seen as an admission of failure in winning hearts and minds and doubling down on efforts used in the past four decades.