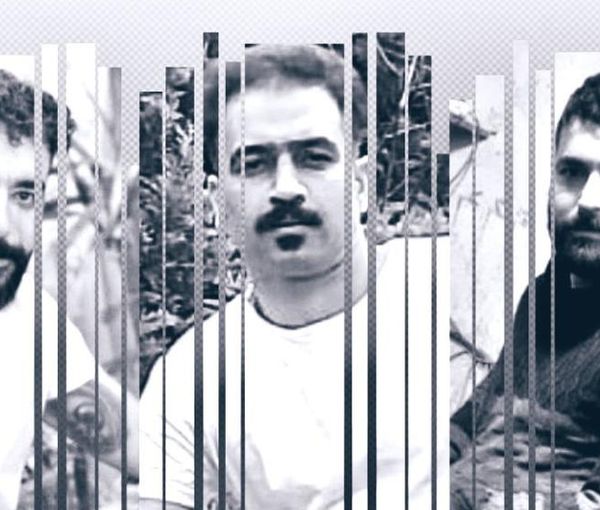 Expat Iranians Call For Demos To Halt Political Prisoners' Executions
Iranians abroad are calling for protests over the imminent execution of three political prisoners tortured into confessions by the Islamic Republic.
The families of Majid Kazemi, Saleh Mirhashmi, and Saeed Yaqoubi and human rights campaigners say there is no evidence against them.
The state broadcaster's local TV channel in Esfahan (Isfahan) – where the three are being held – aired footage of their forced confessions on Monday night, adding to growing fears that they are about to be hanged. 
The prisoners' relatives were reportedly told by the court of appeal not to come back to the judiciary's office because "the prosecutor of Esfahan wants to execute these three protestors."
Iranian expatriate communities plan to pour onto streets of their hometowns for demonstrations against the executions by the Islamic Republic on Saturday, May 20.
Canada-based dissident figure Hamed Esmaeilion, whose daughter and wife were killed in the shooting down of Flight PS752 by Iran's Revolutionary Guard in 2020, is among the organizers of the event, dubbed "Unanimous Against Executions in Iran."
The three prisoners' families have repeatedly stated that there is no reliable evidence implicating the three in the death of two IRGC's Basij militia members and a police officer in protests of November last year, in what Persian media have dubbed the 'Esfahan House' case.
There are a number of discrepancies in the prosecution case, including the time of the killings and the fact that the murder weapons described by the judiciary do not match the details of the confessions.
According to an audio file released on Sunday of Kazemi talking to his cousin, he was coerced into confession by threats to his family of rape and death.
The prisoners were allowed to meet their families on Sunday night, further fuelling speculations that their execution is imminent. An organized pro-regime Twitter campaign has been launched, urging the authorities to carry out the execution.
Fars news agency, affiliated with the IRGC, ran a piece on its website on Tuesday, claiming that foreign-based media – deemed hostile by the regime – have been trying to stop the justice being meted out to the prisoners.
On Sunday, protesters against the executions gathered overnight outside Esfahan's prison. Videos posted by activists show dozens chanting slogans in front of the prison, while gunfire was also heard as thick smoke caused by teargas enveloped the area.
Opposition activists say the death penalty is being used against the Esfahan House three as an intimidation tactic to stop further protests.
The United Nations said last week that Iran has executed 209 people so far this year, calling the record "abominable".
Earlier in the month, Amnesty International urged Iran to drop the execution of the three as well as that of six ethnic Arab men who gave "tortured-tainted" confessions.