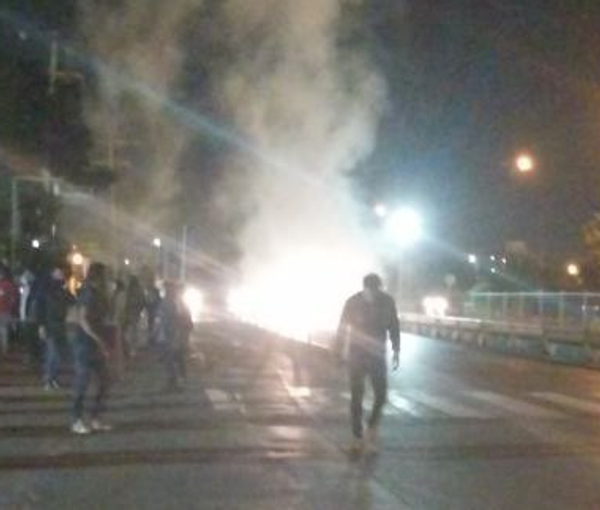 Protests And Condemnation Ahead Of Esfahan House Executions
Iranians in the Islamic Republic and abroad have voiced their fears for three political prisoners whose execution is imminent.
Protestors gathered overnight outside the prison in Esfahan (Isfahan) where Majid Kazemi, Saleh Mirhashmi, and Saeed Yaqoubi await their death sentence, having been found guilty in a trial condemned as a travesty of justice by human rights campaigners.
They were convicted over the death of two IRGC's Basij militia members and a police officer in protests of November last year, in what Persian media have dubbed the 'Isfahan House' case.
Responding to social media calls on Sunday night, people gathered outside Esfahan (Isfahan) Central Prison hoping to stop the executions. Videos posted by activists show dozens chanting slogans in front of the prison, while gunfire was also heard as thick smoke caused by teargas enveloped the area.
Following the increase in the executions of prisoners in recent weeks, families of those sentenced to death held a protest rally outside the Judiciary's office in Tehran's Keshavarz Street on Monday, demanding an end to the killing.
A similar rally was held last week outside Iran's largest prison in Karaj hoping for mercy by the regime but by sunrise the prisoners were hanged. 
Opposition activists say the death penalty is being used against the Isfahan House three as an intimidation tactic to stop further protests. 
Majid Kazemi, Saleh Mirhashemi and Saeed Yaghoubi
Campaigners say the prisoners were tortured into confessions, and there is no reliable evidence against them. According to an audio file released on Sunday of Kazemi talking to his cousin, he was coerced into confession by threats to his family of rape and death.
Exiled prince Reza Pahlavi tweeted on Sunday night, saying, "We must not allow this murderous regime to take another innocent life and turn another mother into a mourner."
Prominent activist Masih Alinejad said: "We should not allow the regime of crime and madness to take more young people from us and make more families grieving."
Canada-based dissident figure Hamed Esmaeilion, whose daughter and wife were killed in the shooting down of Flight PS752 by Iran's Revolutionary Guard in 2020, tweeted, "When will the insanity stop? When will the free world stand behind its own values? How many more executions will it take for the world to stand up?"
Last week, Australian Senator Jordon Steele-John, a political sponsor of Majid Kazemi called on the Australian Foreign Minister Penny Wong "to have an urgent meeting with her Iranian counterpart to do all they can to prevent the execution of Majid, which could happen at any moment".
Iranian expatriate communities plan demonstrations against the executions in cities worldwide on Saturday, May 20.
Iran has always had a high number of executions but the number started to rise after President Ebrahim Raisi – the former head of the country's notorious judiciary -- took office in August 2021.
The United Nations said last week that Iran has executed 209 people so far this year, calling the record "abominable".