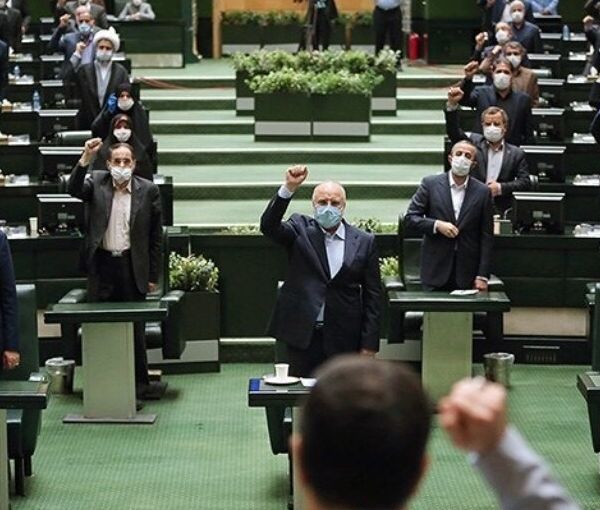 Tehran Politicians, Media Lash Out At Hardliners, Demand New Elections
A leading reformist politician in Iran says a combination of Iran's weakest government and parliament has created "a regrettable situation for the country."
Mohammad Javad Haghshenas, a prominent member of the reformist National Trust Party says the situation is like a fire under the ashes. Decision-makers in the Iranian government simply ignore the underlying reasons for last year's nationwide protests and attribute the crisis to the "enemies."
He also suggested that President Raisi should resign and call for early elections.
Haghshenas warned that "any moment, another mistake like what happened in September and led to the death in custody of Mahsa Amini, or a new problematic policy can lead to a new crisis and new waves of protest."
He pointed out that ignoring popular demands and the protests that are still continuing, as well as problems such as inflation, financial corruption, economic problems, red tape, government's intervention in people's private lives and the inefficiency of the government bureaucracy can deepen the ongoing crises.
He added that one of the ways out is returning to the Constitution, which is a document the nation agrees on. However, a major part of the Iranian opposition, and even former high-ranking officials, believe that the current Constitution, designating clerical rule, is one of the root causes of Iran's problems. Many among the opposition want a return to the 1905 constitutional monarchy and others want a secular, democratic republic.
However, Haghshenas says the hard core of political power in Iran [meaning Supreme Leader Ali Khamenei] should pave the way for upholding the Constitution by September particularly because a parliamentary election is going to be held in March next year. He also pointed out that none of the crises that have led to major protests since 2019 have been resolved. Meanwhile, he suggested that Raisi should resign and call for an early Presidential election.
He also suggested that the Guardian Council should do away with its selective supervision of vetting candidates before elections. The Council, a constitutional body indirectly controlled by the Supreme Leader, has the power to disqualify candidates for no clear reason. It used its power in the 2020 parliamentary and 2021 presidential elections to bar hundreds of candidates many of whom had previously served as lawmakers or as senior officials. The result was a massive rejection of 'reformist' candidates and handing full control to hardliners.
Meanwhile, Mansoor Haghighatpur, a moderate conservative lawmaker close to Ali Larijani the former Speaker of the parliament charged that a certain political group [meaning the ultraconservatives] want to run the country with a team of only 30 to 40 individuals.
Mansoor Haghighatpur, a moderate-conservative politician
Haghighatpur further charged that the ruling group only believes in its own members and considers other politicians as traitors and spies. His comment followed accusations of espionage against former President Hassan Rouhani and his aides and IRGC figurehead Hossein Taeb's call for putting Rouhani on trial.
He said that this group of 30 to 40 ultraconservatives came to the forefront of political leadership since former populist President Mahmoud Ahmadinejad came to power in 2005 and lately took over the entire political establishment after the 2020 and 2021 elections.
In another development, Iranian traditional conservatives flagship daily newspaper Resalat wrote on Saturday that President Ebrahim Raisi's administration does not understand concepts such as inflation and repayment of loans. The daily told Raisi and his ministers: "Your daily journey starts from the parking at your home and ends in the parking lot of your office and you do not know anything about the people's problems."
Resalat added: "As a result, you constantly ridicule the people and subsequently the people turn their backs on you." The daily was referring to a statement by Raisi's Welfare Minister Solat Mortazavi who when asked last week how low-paid workers can make ends meet, he replied: "They should save!" Resalat called the minister's reaction "an outcome of ignorance."