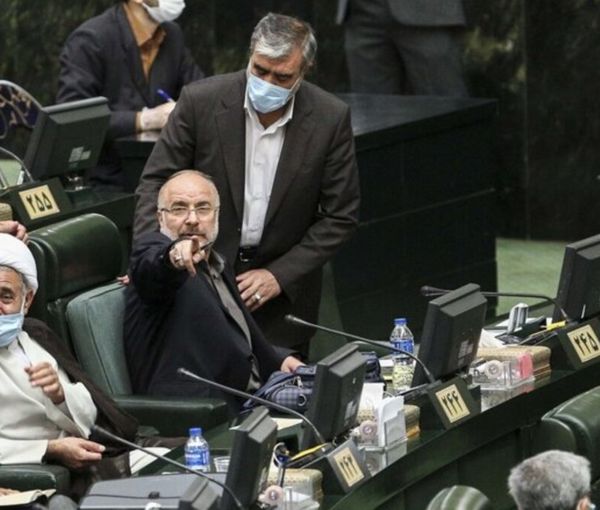 SUV-Gate Deepens Rift Among Hardliners In Iranian Parliament
A recent scandal over Iranian lawmakers receiving cheap SUVs as bribe has deepened friction between the parliament speaker and the ultra-hardliner Paydari group. 
Khabar Online, a news website close to the former moderate-conservative speaker of parliament, Ali Larijani, wrote Saturday that the scandal has turned into an excuse for the two major groups of hardliners in the parliament -- supporters of Speaker Mohammad-Bagher Ghalibaf and Paydari Front lawmakers – to settle political accounts. 
In the past few days, Paydari Front lawmakers such as Morteza Agha-Tehrani have been assailing Ghalibaf who describes himself as a neo-conservative. The Speaker says he had known about the bribery and stopped it, while Agha-Tehrani accuses him of doing nothing to stop it and failing to offer convincing explanations since the news broke out last week. 
Ghalibaf's supporters and Paydari, which seeks the establishment of a traditional Islamic government, have also been threatening each other of revelations about other corruption cases.
"Agha-Tehrani's interview displayed that your group is not after transparency," pro-Ghalibaf lawmaker Mojtaba Tavangar wrote in a letter to Paydari Party secretary general, Sadegh Mahsouli, Friday and alleged that some Paydari lawmakers had also been among the recipients of the SUVs.
Over seventy SUVs were offered to the lawmakers at a lower price by the ministry of industry ahead of lawmakers' discussion of a motion in December last year to impeach former minister of industry, Reza Fatemi-Amin for his "inadequate performance" including failure to control rising prices for domestically produced vehicles, their low quality, preventing competitive imports, and corruption in the industry. 
After the impeachment drive failed, lawmakers planned another motion in April, which eventually succeeded.
Ahmad Alirezabeigi, the lawmaker who blew the whistle two days before the the second impeachment, claims he only meant to combat corruption and had no hidden agenda when he disclosed the bribery by, or on behalf of the minister. 
Tabriz representative in the parliament Ahmad Alirezabeigi
"Some people gain privileges on various excuses to compromise and undermine the supervisory duty of the parliament," he said Wednesday while calling such bribery a "tradition in the parliament" to prevent impeachments. 
"I have nothing to do with the opportunism [of others] which is related to the elections," he told Khabar Online, adding that "the two groups of lawmakers have waged a war over power to get more seats [for their respective factions] in the upcoming elections." 
"The speaker must transparently announce what measures he took against the unlawful payment to some [lawmakers] if he claims that he found out beforehand and stopped it. What measures were taken against the offenders? To which court were they referred to?" he asked. 
In recent years car imports have been largely banned due to the shortage of hard currency. This has increased demand for domestically produced vehicles purchasing of which requires signing up and paying reservation fees. There are often long waiting lists due to the high demand in the market. 
Fatemi-Amin was the first minister in President Ebrahim Raisi's cabinet to be impeached. After initial denials by him and other officials, he was eventually sacked by the parliament on April 30.