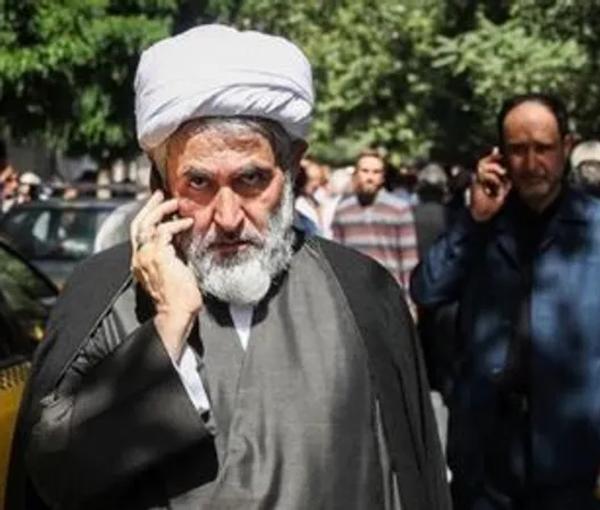 Former IRGC Intelligence Chief Keen To Put Rouhani On Trial
Hossein Ta'eb, a senior adviser to the IRGC says former President "Hassan Rouhani will be tried if not today, maybe another day for his decision's during his presidency."
However, while according to Etemad Online Ta'eb insisted that Rouhani should be tried, he commented that his trial is not the establishment's immediate priority.
Several social media users commenting on the report said that Ta'eb himself should be tried for security breaches during his tenure as the head of IRGC's Intelligence Organization. He was removed from his post last year after a series of serious sabotage acts in Iran attributed to Israel and a major case of infiltration by Israel was revealed. A top security official, Alireza Akbari was subsequently hanged on charges of espionage for foreign countries.
This was not the first time Iran's hardliners call for Rouhani's trial or accuse him of pursuing accommodation with the West and for concluding a nuclear agreement in 2015.
Rouhani recently said that he would file a complaint against a hardliner member of the Supreme Council of Cultural Revolution who has accused him and his aides of espionage.
Attacks on Rouhani by hardliners escalated when he was quoted last week as having said that an agreement with the United States was at hand before he handed over the presidency to Ebrahim Raisi in 2021.
President Rouhani with his foreign minister Mohammad Javad Zarif. Undated
Rouhani who kept a low profile for 18 months after his presidency, began making public statements critical of the current economic and political situation in Iran and convening frequent meetings with his former aides. According to Entekhab website, which is close to Rouhani, on Friday, he said sarcastically that everyone expected Iran's problems to be solved now that a consolidated conservative government was in office.
Earlier attacks in April targeted Rouhani for suggesting a referendum on the country's key issues. Not only the hardliners in the government, but Supreme Leader Ali Khamenei lashed out at critics for the suggestion they said would undermine the regime's authority. Khamenei even went out of his way to say that the people are not knowledgeable enough to take part in referenda.
Rouhani has also criticized the current government for high inflation surpassing 50 percent and increasing poverty. He also criticized the government for barring reformist and moderate candidates from running in elections.
Some of Rouhani's allies like the former chief of the parliament's Foreign Policy and National Security Committee, Heshmatollah Falahatpisheh, say that he should have fought harder to revive the 2015 nuclear deal, the JCPOA. He said this week that détente and solving the nuclear dispute were among Rouhani's promises to the nation and he should have done more to that end.
"At least Rouhani and his aides should have explained to the nation about why the negotiations with the United States and Europe were not fruitful," Falahatpisheh added.
Meanwhile, foreign policy analyst Mehdi Motaharnia said in an interview with Rouydad24 website that what is transpiring between Rouhani and the hardliners is part of a crisis of decision-making in Iran. Motaharnia further opined that consolidating political power in Iran by handing over the whole establishment to conservatives was the regime's biggest strategic mistake.
The decision to engineer the elections and allow hardliners to form an absolute majority in parliament and win the presidency in 2020-2021, could have only come from Khamenei.
He said that the new government made "revolutionary rhetoric" the driving force of its foreign policy and brought the country face to face with a serious challenge it cannot resolve.
Referring to the tensions between Iran and the international community, Motaharnia stressed that the year 2023 is the year in which the Iranian government needs to take big and hard decisions to ensure the regime's stability.