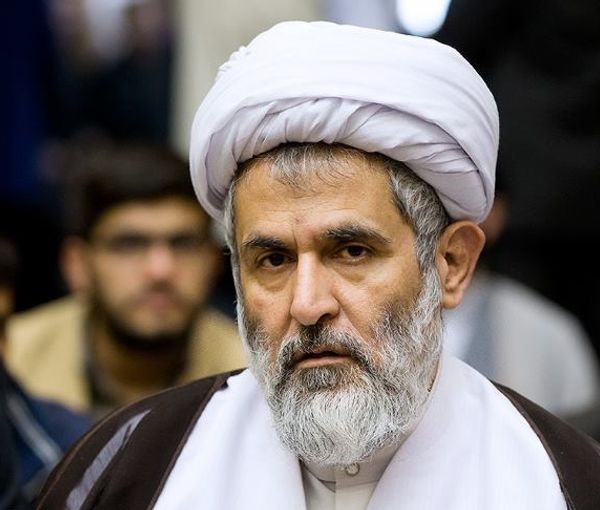 Speculations Abound Over IRGC Intelligence Chief's 'Dismissal'
The replacement of the Revolutionary Guard (IRGC) Intelligence Organization Chief Hossein Taeb has fueled many speculations about the reasons for his dismissal.
Taeb's removal, his appointment as advisor to the commander in chief of the IRGC, and appointment of Mohammad Kazemi were all announced Thursday after days of rumors on social media.
Taeb's name has become the top hashtag in Persian social media over the past 24 hours. There is an abundance of posts that include more rumors and speculations about what most refer to as his "dismissal" and his current whereabouts.
Taeb has not been seen in the past few days.
Wednesday afternoon, social media users claimed that Taeb, one of the most feared men in Iran had survived an assassination attempt, allegedly by Israel, but was in critical condition at the I RGC's Baghyatollah hospital in Tehran.
Some social media users allege that what they say was a hasty announcement of Taeb's replacement was a cover up of his purported assassination by Israel.
There are also claims that Taeb was shot in the leg when agents stormed his office to arrest him and clashed with his bodyguards. There are also claims that over thirty other individuals belonging to SAS (Persian acronym for IRGC Intelligence) were arrested in raids in different areas of Tehran overnight.
On June 19, following Taeb's recent threats against Israelis, the Israeli Prime Minister Naphtali Bennet said that Israel would continue to strike those who send terrorists to attack Israelis in various overseas locations. "Our new rule is: Whoever sends – pays," he said. This has been interpreted as a direct threat against the head of the IRGC's SAS.
Taeb's dismissal has also been linked to Turkey's announcement Thursday that the National Intelligence Organization (MIT) thwarted a planned attack against Israeli diplomats and tourists in Istanbul. MIT said that it detained eight suspects allegedly working for an Iranian intelligence cell.
Undated phot of Ta'eb with Qasem Soleimani seen on the foreground
Some believe that his failure to succeed in the operations he had promised to carry out has displeased Supreme Leader Ali Khamenei. Others say he has been found to be an agent of Israel.
Well-known journalist Hengameh Shahidi tweeted on Thursday that she had confirmation from reliable sources that Taeb was sacked by the direct order of none other than the Supreme Leader himself.
Abdollah Ganji, the former editor of the IRGC-linked Javan newspaper, in a tweet Thursday dismissed all these speculations and claimed that Taeb's removal from his position was "only a very ordinary transfer to a bigger stronghold."
But some other hardliners appear to be pleased with Taeb's removal. "After the removal of Hossein-Ali Montazeri as successor to the founder of the Islamic revolution,Taeb' removal from the helm of SAS is the most consequential dismissal in the history of the revolution. This surgery, undoubtedly, will lead to higher security in the country," former hardline lawmaker Hamid Rasaei tweeted Thursday.
Supporters of the former president Mahmoud Ahmadinejad have been sharing his comments in an interview four years ago when he said he had always opposed Taeb's appointment as the chief of SAS. "He has no balance. He will cause chaos in everything. He only knows how to create bogus cases," Ahmadinejad said in the interview in reference to the many cases of high profile arrests of Iranians, foreigners, and dual nationals.
Taeb's replacement is likely to affect many of his allies including Parliament Speaker Mohammad-Bagher Ghalibaf, a former Revolutionary Guard top brass general. Ghalibaf's political life has hugely depended on his alliance with Taeb, hardliner journalist Vahid Ashtari, who first revealed the 'Layette-Gate" scandal involving Ghalibaf's family in April, told Didehban-e Iran news website on Thursday.
Iran International journalist Morteza Kazemian believes that removing Taeb from office is the biggest shift in security matters in the history of the Islamic Republic. "This is A massive earthquake in the structure of power in Iran the aftershocks of which will not remain limited to the IRGC, security bodies, and in matters related to Israel," he tweeted, adding: "This will even affect Khamenei's succession."
Taeb is known for having very close relations with Khamenei's secretive son, Mojtaba, a former co-fighter in the Iran-Iraq War (1980-1988), who many believe is being groomed to succeed his father.