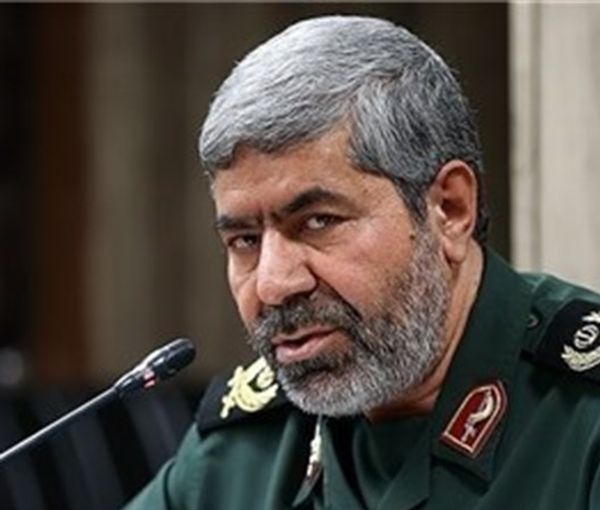 Iran's Guards Say US Too Weak In Region To Militarily Support Israel
The United States is not in a position to support Israel, spokesman of the Revolutionary Guard said in reaction to statements that Israel can act alone against Iran.
Ramezan Sharif was quoted by IRGC-affiliated Fars news website Saturday said Israel has repeatedly issued similar statements, but he has one message and that is: The situation of the Americans in the region is such that they cannot support the Zionists.
Israel has long threatened that if the Islamic Republic gets close to obtaining a nuclear weapon it will use all methods including a direct military attack to prevent it. President Joe Biden has also vowed not to allow the Iranian regime to produce nuclear weapons, with "all options on the table."
But Tehran has been emboldened by a recent agreement with Saudi Arabia to restore diplomatic relations, mediated by China. It sees itself as not so isolated in the region and believes that a possible threat of an Israeli-Arab military alliance has receded.
China brokering a deal between two regional rivals has been widely seen as a defeat for the United States in the region and the ascendance of Chinese influence in the Middle East.
Sharif also said that "The Americans seem to be trying not to fall into the lap of the Zionists, because they know that if Zionists take action against us our in-kind retaliation will engulf the bases of those supporting them."
However, the United States has continued to pledge its readiness to support Israel and held large joint military drills in January.
An IRGC missile system on display during drills in October 2022
The US Navy also announced April 8 the deployment of a guided-missile submarine capable of carrying up to 154 Tomahawk missiles to the Middle East, in what appeared to be a show of force toward Iran following recent tensions in Syria and rocket attacks on Israel.
IRGC's spokesman went on to say that Israeli statements about attacking Iran without American help stem from US messages that they are not able to assist Israel as the case was in the past and "are not ready to enter a battle [knowing] where it would end."
After the agreement to restore ties with Saudi Arabia was announced March 10 in Beijing, Iran has become more aggressive against Israel, openly calling on its allies and militant proxies to attack the Jewish state. The new belligerent policy was reinforced by massive anti-government protests in Israel against Prime Minister Benjamin Netanyahu's plans to overhaul the country's judiciary.
The Wall Street Journal reported Friday that the commander of IRGC's extraterritorial Quds Force, Esmail Qaani has held a series of secret meetings with leaders of Iran's armed proxy groups in recent weeks to plan attacks against Israel.
The Journal said that to coordinate a rocket a rocket attack from Lebanon on Israel in early April Qaani met in Beirut, with Hamas leader Ismail Haniyeh and his deputy Saleh al-Arouri and Hezbollah chief Hassan Nasrallah.
IRGC's chief commander Gen. Hossein Salami on Friday boasted that "The Zionist regime is the target of military attacks by all countries and does not even know from where the attacks are coming." Salami was speaking at a ceremony marking the anti-Israeli Quds Day in Esfahan, central Iran. He took credit for the attacks saying that the Islamic Republic is now a source of legitimacy for regional countries, while just a few months ago they had distanced themselves from Tehran.
Iran's president Ebrahim Raisi speaking in Tehran on the Quds Day reiterated that the liberation of Quds (Jerusalem) is imminent; "Closer than you can imagine," adding that "the normalization of relations with regional states [such as the United Arab Emirates and Bahrain] has not brought and will not bring security for the Zionist regime."