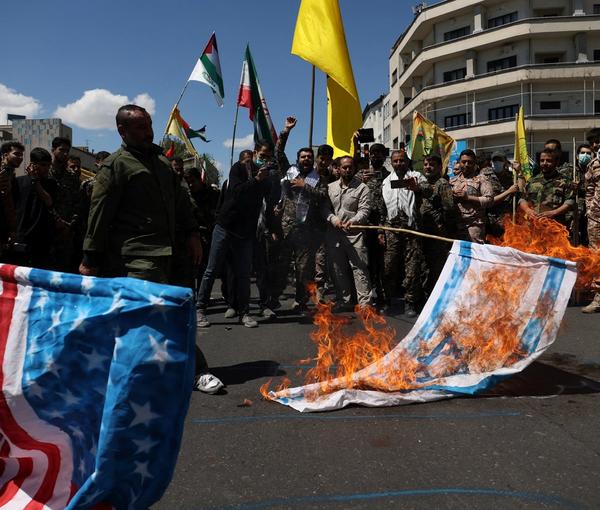 A Lackluster Quds Day In Iran Amid Hijab Defiance
Iranian officials, clerics and military commanders made pompous remarks about the demise of Israel on the last Friday of Ramadan, the regime's Quds Day.
Those with a controversial background made the most outlandish hard-line comments to prove their loyalty to the regime.
The rhetoric used on Qods Day speeches were a mixture of impolite, uneducated and politically incorrect opinions and part of Iran's rationalization of its irrational phobia about Israel's influence in the region.
Deputy IRGC Commander for Political Affairs General Yadollah Javani who was implicated last year in an infiltration case involving an alleged Israeli agent, Catherine Shakdam, a former consultant for UNSC on Yemen, went out of his way to threaten Israel's Jewish people rather than the Israeli government. He said, "The Jews should know that Israel is no longer a place to live," and told them "pack your suitcases!"
Javani stressed: "Israel should be wiped off [the map] and this is something that will materialize and the Jewish people will have to return to their home countries." Javani who was speaking in Rasht in northern Iran said the enemies are downplaying the importance of the Quds Day by creating doubts among young Iranians.
In Tehran, the day was marked in one of the Iranian capital's smallest squares, the Palestine Square and later on Revolution Square, a slightly larger venue to make sure that the people who were bussed in would fill the space.
Deputy IRGC Commander for Political Affairs General Yadollah Javani
Javani claimed the Quds Day is now an international event. This was against the fact that some counties including Germany have reportedly banned Quds Day events.
He further claimed that recent unrest in Israel was a sign of its impending destruction, adding that the "Zionist regime" is no longer capable of surviving.
In Tehran, the former Judiciary Chief who currently chairs the Expediency Council, Sadegh Amoli Larijani, another insider implicated in major financial corruption cases, claimed the issue of Quds [meaning the problem of Palestine] is the world's biggest problem.
Another speaker, vice president for economic affairs, Mohsen Rezaei, said that Iran is collaborating with regional counties to create a strategic alliance against Israel. He was obviously mindless of the fact that nearly all Persian Gulf Arab countries maintain friendly ties and trade and cultural relations with Israel.
The rhetoric against Israel was also heightened IRGC-linked Fars news agency which recycled old comments by Khamenei on Israel. The report quoted Supreme Leader Ali Khamenei as saying that by wiping Israel [off the map] he meant that one day the Palestinians will elect their own government, and this is something that will most certainly happen.
Highlighting that Khamenei does not call for the destruction of the Jewish people stems from the fear of Israeli threats to attack Iran's nuclear facilities even without US help.
Khamenei is also utterly shaken by recent attacks attributed to Israel on Iran's military interests in Syria. Some recent reports indicated that Israel had attacked the depots of Iranian military equipment airlifted to Syria disguised as relief aid following a recent earthquake in the region. Iran has named at least three IRGC commanders who were killed during Israeli strikes.
On the other hand, Tehran hopes that news of conflicts in Israel and missile attacks on the country will overshadow the fiasco that followed alleged Israeli attacks on Iran's drone factory in Esfahan. Regime insiders might even hope that the anti-Israeli propaganda would downplay the importance of nationwide protests in Iran and rally Iranians behind the regime.
This hope was dashed by low turnout in Quds Day rallies as Iranians continue to defy the regime, especially rejecting its campaign to force women to use hijab.