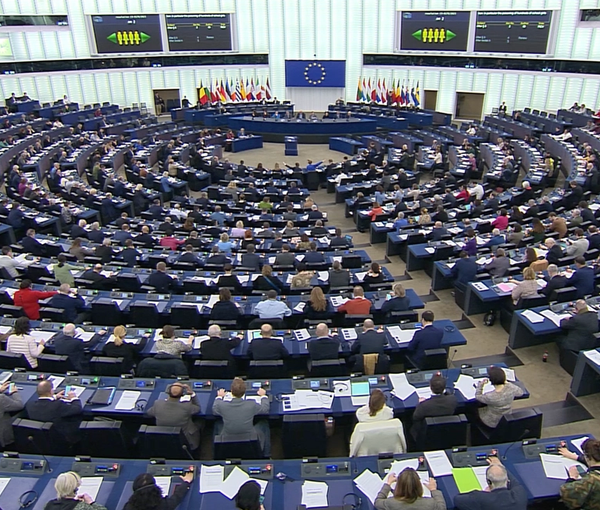 European Parliament Demands Investigation Over Chemical Attacks On Iranian Schoolgirls
The European parliament has adopted a resolution calling on the UN Human Rights Council to conduct an independent probe into a wave of chemical attacks on Iranian schoolgirls.
The motion, which passed by 516 votes in favor, five against and 14 abstentions on Thursday, vehemently condemned "this atrocious attempt to silence women and girls in Iran," and expressed "its deep solidarity with the Iranian students poisoned in the incidents and with their families."
According to reports by state media and Iranian officials, more than 1,300 pupils, mostly girls, have fallen ill after "suspected poisonings'', with some politicians blaming religious groups opposed to girls' education. Some activists have accused the regime of orchestrating the poisonings as revenge for the active role by schoolgirls in the protests ignited by the death in custody of 22-year-old Mahsa Amini last September.
A young woman lies in hospital after reports of poisoning at an unspecified location in Iran in this still image from video from March 2, 2023.
Urging authorities to ensure girls have non-discriminatory access to education, MEPs called on the Islamic Republic to repeal any legislation that discriminates against girls and women, saying that since the wave of attacks started in November 2022, thousands of girls and women across Iran have been poisoned with toxic chemicals to prevent them from attending school. 
It called on the Iranian authorities to grant full access to the UN Independent International Fact-Finding Mission and the UN Special Rapporteur on the situation of human rights in the Islamic Republic of Iran. 
Reiterating its condemnation of "the regime's anti-women and anti-girls policies," the European Parliament reaffirmed "its absolute support for Iranian women's and girls' demand to abolish all systemic discrimination."
The resolution also decried the regime's months-long failure to act on the serial poisonings, as well as its deliberate suppression of credible reports of systematic toxic attacks. Denouncing any politically motivated legal proceedings against those reporting on the poisonings, the resolution called for the immediate unconditional release of all those imprisoned or prosecuted.
The parliament also repeated its call on the Council of Europe to designate the Islamic Revolutionary Guard Corps – IRGC -- as a terrorist organization and to expand the EU sanctions list under the EU Global Human Rights sanctions mechanisms to include Supreme Leader Ali Khamenei, President Ebrahim Raisi, and Prosecutor General Mohammad Jafar Montazeri for their role in rights violations. 
The nine-point resolution also urged EU member states to facilitate the issuance of visas, asylum and emergency grants to those who need to leave Iran, "particularly women and girls". However, a point that was included in the proposed resolution but did not pass was a call "for the European institutions to reflect on the deeply rooted protest movement of Iranian women." It sought to urge Europe to acknowledge "that this movement goes beyond the defense of women's rights, advocating for a democratic state in Iran instead of a violent and reactionary theocracy."
The Iranian government, police and judiciary have not issued a transparent and definitive report on the chemical attacks, vaguely claiming that dozens of arrests were made, without any sign of court action against alleged perpetrators.