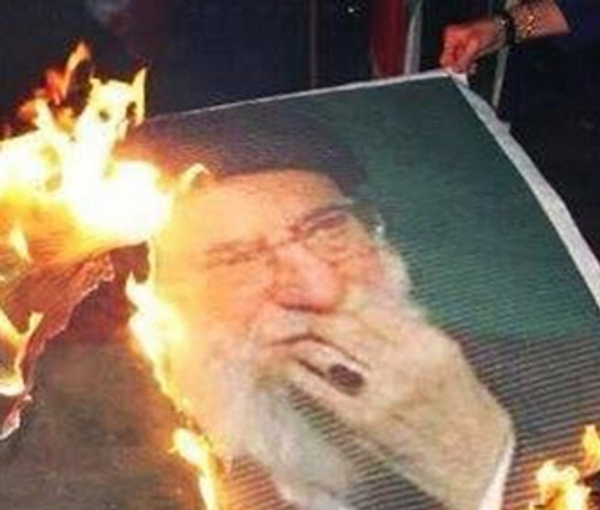 Iranians Chant Overnight Slogans, Set Khamenei Banner Ablaze
Iranians once again held anti-regime protests and engaged in acts of defiance in Tehran and other cities on Sunday.
Several neighborhoods of capital Tehran once again witnessed overnight anti-government slogans by protesters.
People in Jannat Abad west of Tehran chanted slogans like "Death to the Dictator" and "Freedom, Freedom, Freedom" from inside their houses and residential complexes.
Baqeri town in the west of the capital, which is home to many IRGC staff, was also the scene of anti-government slogans. "Death to Khamenei", "Death to the IRGC" were among the nightly slogans of the protesters in this town.
Protesters in Ekbatan, west of Tehran, also chanted "Death to the dictator" and "Death to Khamenei". This comes as security forces set up checkpoints at the entrances of Ekbatan Sunday evening.
Despite the extensive arrests of residents Ekbatan has been one of the main hubs of protests in the capital since the beginning of unrest against the Islamic Republic after the death in custody of Mahsa Amini in September.
In Narmak neighborhood in the east, people chanted "Death to the dictator", "Death to the child-killing regime" and "Death to Khamenei, damn Khomeini".
In the cities of Rasht in the north and Bandar Abbas in the south, the protesters also wrote slogans on the walls, and in Yasouj in the southwest, they set fire to regime placards, including a large banner showing the image of Supreme Leader Ali Khamenei.