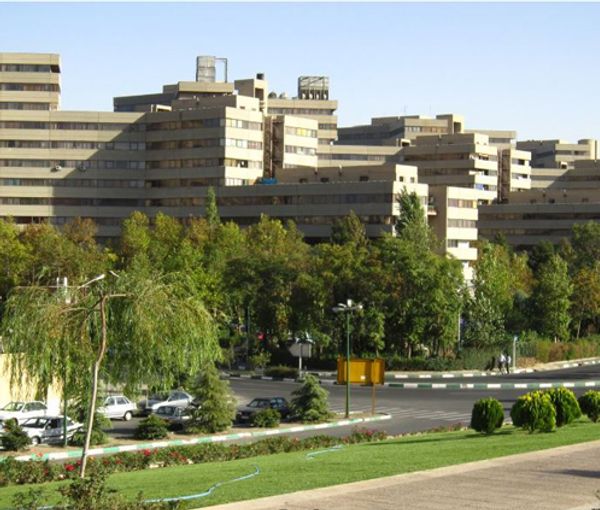 A Defiant Tehran Neighborhood Where Protests Never Stop
Despite frequent crackdowns and arrests, nighttime antiregime protests and chants never stop in Ekbatan, a massive middle-class apartment complex in western Tehran.
For over three decades Ekbatanis, as they like to call themselves, have hosted one of Tehran's biggest Charshanbe Suri bonfirenight festivals in late March. The police and the Basij militia of the Revolutionary Guard (IRGC), who consider the festival a pagan tradition, always cracked down on the merry-making boys and girls, who often flauted the hijab rules too, playing loud music and dancing in the leafy spaces between the buildings.
These days it is slogans against the Supreme Leader Ali Khamenei and the clerical regime that resound every night in the large spaces between the tall blocks instead of the sound of music and handmade firecrackers. They often light bonfires now and chant around it.
Every night Basij militiamen and officers of various intelligence and security forces in plainclothes often attack groups of around 100 chanting young people who march around the apartment blocks.
People chanting and government forces firing in Ekbatan on Dec. 20, 2020
Regime forces use tear gas, shoot pellets at protesters and the windows of the apartments from where people chant "Death to Khamenei" and "Down with the Dictator" every night, and make arrests both outside and inside the buildings.
A few weeks ago, they shot at people's windows indiscriminately, rampaged the entrance lobbies in several blocks, broke the windows, and destroyed the lobby furniture and intercoms to give the residents a lesson.
A view of the massive Ekbatan apartment blocks
The ever-present Basij have four bases within the five square kilometer complex which has 15,500 apartments and a population of around 45,000. The neighborhood is very popular with professionals, artists and other educated groups with a sense of community unmatched elsewhere in the city.
The residents of Ekbatan began chanting from their windows at nine pm Tuesday night, the second day of a three-day protest and strike action while Basijis, plainclothesmen, and vigilantes roamed between the 23 massive blocks and fired rounds into the air.
Security forces ransacked the lobby of one apartment building in November 2022
"Tonight, they arrested many, especially women. Then plainclothesmen began shouting obscenities and threats against people chanting from windows. We are now hiding in one of the neighbors' apartments waiting for them to go," the addmin of Shahrak-e Ekbatan Twitter and other social media accounts said in a direct message Tuesday night.
The youth of Ekbatan use Twitter, Instagram, and Telegram to regularly update each other with footage of the window chanting and protests, report clashes with Basij militia and arrests, and share detailed descriptions of plainclothes agents patroling to gather intelligence on protesters and residents who offer them shelter when they need to hide. When the internet is down, they drop fliers in houses or put them up on notice boards and under wind shields of cars.
Tuesday, Basiji's shouting threats and firing their guns in Ekbatan
The admin wanted to be quoted by the name Aida, in honor of Dr Aida Rostami whose battered body was handed over to her family with broken arms and stitched eyelids to cover an emptied eye socket. This was less than twenty hours after she last contacted her family from Ekbtan where she was apparently arrested.
Wounded protesters often avoid going to hospitals for treatment for the fear of being reported to the security forces and ending up in prison. "Dr. Rostami was a member of a group of volunteers who treated injured protesters at their homes in various areas," Aida said, adding that so far over 200 have been arrested in Ekbatan and around 50 are still in custody.
Last week, police and security forces took nine people accused of killing a young Basiji named Arman Aliverdi in Ekbatan from prison to the neighborhood to reconstruct the crime scene.
A video circulating on social media at the time showed Aliverdi bleeding from the face and head while a protester kicked him. He later died in hospital. Authorities claim protesters also stabbed him.
"The crime scene reconstruction happened last week but the judiciary said that the reconstruction had happened yesterday [Monday] to cast a shadow on this week's protests and strikes," Aida says.
Aida also says Aliverdi was not killed by the Ekbatani protesters who, she admits, stripped his top and beat him with their fists and kicked him. "But he was not stabbed by our guys," she says. "Before him a few other Basijis who attacked us were also stripped and kicked to give them a lesson. They were sent back to their friends [without too many injuries]. We are not brutes, we never attempted to kill anyone," she insists.