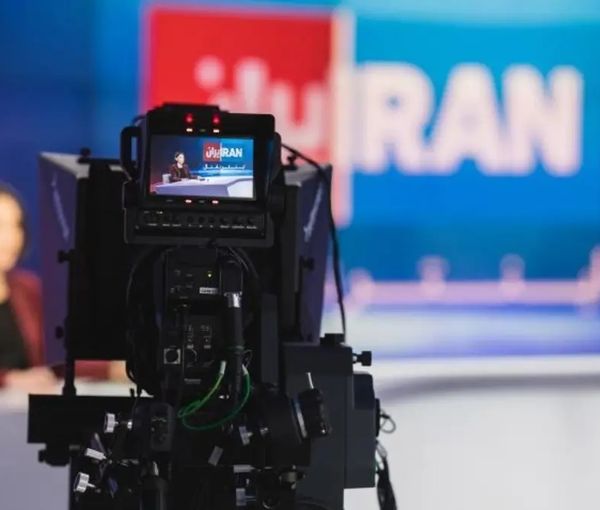 Relocation Of Iran International Studios To US Draws Global Reactions
The announcement by Iran International TV that about shifting studio operations to Washington DC over Islamic Republic's threats have solicited worldwide reactions.
After a significant escalation in state-backed threats from Iran and advice from the Metropolitan Police, Iran International TV announced February 18 that it has reluctantly closed its London studios and moved broadcasting to Washington DC.
The head of Counter Terrorism Policing (CTP), Assistant Commissioner Matt Jukes in London confirmed that they will continue to work closely with intelligence partners and others to investigate potential threats projected from Iran against a number of UK-based individuals, support those affected and put in place measures to keep them safe, including protective security measures such as an overt armed policing presence focused around the west London offices of the Persian-language media company.
"At its sharpest, this has involved police and MI5 working together to foil 15 plots since the start of 2022 to either kidnap or even kill British or UK-based individuals perceived as enemies of the regime," read the statement. 
Jukes added that in light of the ongoing investigation that follows the arrest of a man last weekend in that area, and despite extraordinary security measures, "we still have serious concerns for the safety of people working at this company," referring to the arrest and charging of Austrian national Magomed-Husejn Dovtaev, 30, with allegedly "collecting information of a kind likely to be useful to a person committing or preparing an act of terrorism" at London's Chiswick Business Park, home to the offices of Volant Media UK Ltd., the owner of Iran International.
"This news may also be of concern to members of the wider Iranian diaspora in the UK. If anyone has concerns over their own safety or the safety of somebody else, then they should contact their local police force," the statement added. 
But there were also some questions about why Britain would advise a media outlet to move out of London because of threats by a rogue state and if the move means giving in to threats. A former US State Department advisor, Gabriel Noronha tweeted: What on earth is "freedom of the press" good for if UK authorities won't protect their own journalists from hostile states? This is the BASIC duty of a government!
The story has been widely covered by many media outlets, including The Sunday Times, Sky News, The Guardian, Daily Telegraph, Evening Standard, and LBC London radio, as well as several German and French papers and new websites. 
Front page of The Sunday Times
In an interview with BBC after the decision to move broadcasting to Washington, Mahmood Enayat, General Manager of Iran International TV, said, "I cannot believe it has come to this. A foreign state has caused such a significant threat to the British public on British soil that we have to move. Let's be clear this is not just a threat to our TV station but the British Public at large. Even more this is an assault on the values of sovereignty, security and free speech that the UK has always held dear... We refuse to be silenced by these cowardly threats. We will continue to broadcast. We are undeterred."
Iran International was warned by authorities in November that its journalists were under threat from Iranian agents and the Metropolitan Police took measures to strengthen security around the network's office in the area.
The channel's broadcasts have gained special significance since popular anti-regime protests have swept Iran since September after the death of Mahsa Amini detained by the country's "hijab police." Iranian officials have repeatedly threatened Iran International and other Persian broadcasters based abroad since the start of protests when the government blocked the Internet to deny the population news and information. Iran's Intelligence Ministry describes the channel as a "terrorist organization."
"Its operatives and affiliates will be pursued by the Ministry of Intelligence," Intelligence Minister Esmail Khatib said in November. "And from now on, any kind of connection with this terrorist organization will be considered to be tantamount to entering into terrorism and a threat to the national security of the Islamic Republic of Iran."
In the same month, the broadcaster said the Metropolitan Police warned that two of its British-Iranian journalists faced threats from Iran that "represent an imminent, credible and significant risk to their lives and those of their families."
Amid repeated threats by the Islamic Republic against Iran International's reporters, the UK government vowed in December to step up protection of London-based Iranian journalists.
British Foreign Minister James Cleverly had vowed during a session in Parliament on December 13 that the Foreign and Commonwealth Development Office (FCDO), in partnership with the Home Office, had ensured that the Iranian journalists were protected by the British police.
"The UK remains absolutely determined to ensure that Iran does not intimidate people within this country. We will always stand up to the aggression from foreign nations," he noted, adding, "We will absolutely not tolerate threats, particularly towards journalists who are highlighting what is going on in Iran, or indeed any other individual living in the UK."