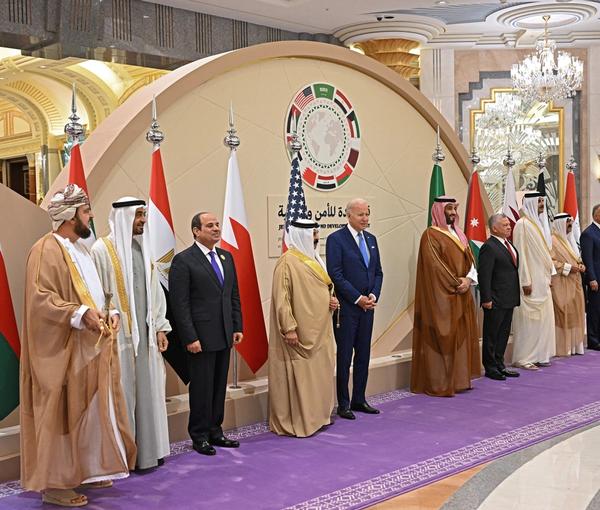 Iran Dismisses US, Arab Criticism Of Its Regional Behavior
Iran has dismissed a joint statement by the United States and the Gulf Cooperation Council Arab states this week accusing Tehran of malign regional activities.
Spokesman of Iran's foreign ministry, Nasser Kanaani on Friday claimed that the statement is nothing more than a US attempt "to sow discord among regional countries."
The US and the GCC held a meeting of the Working Group on Iran this week during the visit of an American delegation to Saudi Arabia and issued the joint statement on Thursday, February 16.
"The United States and GCC member states condemned Iran's continued destabilizing policies, including its support for terrorism and the use of advanced missiles, cyber weapons, and Unmanned Aircraft Systems (UAS) and their proliferation in the region and around the world," the statement said.
Iran's Tasnim news website affiliated with the Revolutionary Guard quoted Kanaani who dismissed the joint statement as "repetitive and boring." He went on to accuse Washington of selling billions of dollars of arms to regional countries and "continuing to support Takfiri terrorism." Tehran has long been accusing Washington of having created and nurtured extremist Sunni terror groups, such as Al Qaeda.
The Islamic Republic finds itself under tremendous economic and political pressure since September when long-running nuclear talks with the West hit a deadlock, and at the same time nationwide popular protests erupted against the regime.
A third factor contributing to Tehran's isolation is its supply of killer drones to Russia that have been used against Ukraine's infrastructure. That has had a major impact on Europe's attitude toward Iran, leading to sanctions and a discussion of listing the Revolutionary Guard as a terrorist organization.
The Iranian currency has fallen by more than 50 percent in the past six months, fueling more inflation amid strong public dissatisfaction and recurring protests.
Opponents of the regime came out into the streets again on Thursday in many cities, chanting slogans against Supreme Leader Ali Khamenei and the clerical government.
The US and the Persian Gulf Arab states voiced concern over Iran's weapons proliferation after their meeting. "Iran and its proxies and partners have used these Iranian weapons in attacks striking civilians, critical infrastructure, and international maritime shipping."
But the statement also expressed deep concern over Iran's expanding nuclear program. "The United States and GCC member states further underlined that Iran's nuclear advances as documented by the IAEA, chief among them the production of highly enriched uranium (HEU), have no credible civilian purpose and are gravely exacerbating regional and global tensions."
Since September, the Biden administration has changed its tone toward the nuclear talks, repeatedly saying that it is no longer focused on reviving the 2015 accord, the JCPOA. Now, both the United States and its European allies have more demands than simply returning to the Obama-era deal. They are saying that Tehran should end its deadly repression against protesters, free all political prisoners, end its military role in Ukraine and its malign activities in the Middle East.
The February 16 joint statement appears to be a US recognition of the deep concerns the Gulf Cooperation Council members have long expressed about Iran's policies and behavior, and can be a signal of non-nuclear issues becoming a prominent part of any agreement with the Islamic Republic.
"The United States and GCC member states expressed their commitment to expanding defense cooperation and interoperability to enhance their capabilities to constrain Iran's ability to conduct destabilizing activities and deter it from conducting future acts of aggression," the statement said.