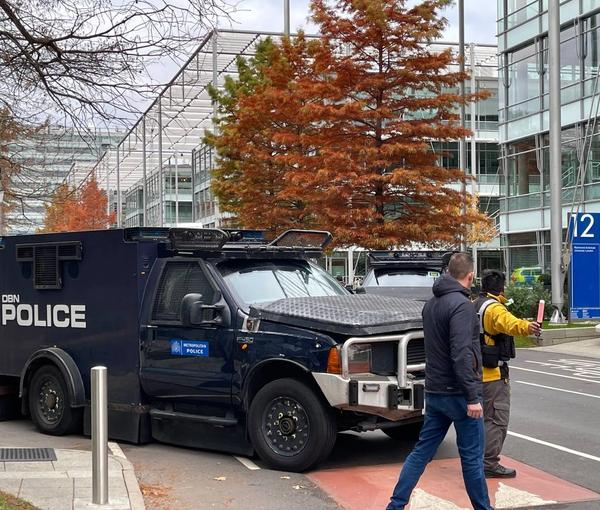 Terror Suspect Arrested Near Iran International HQ Pleads Not Guilty
A man arrested in the vicinity of Iran International's headquarters and charged with a terrorism offence pleaded not guilty in a court session on Tuesday. 
Magomed-Husejn Dovtaev (Mohammad-Hussein Dovtaev), 30, an Austrian national, was detained at Chiswick Business Park on Saturday by officers from the Metropolitan Police Counter-Terrorism Command. 
He appeared at Westminster Magistrates' Court on Tuesday and pleaded not guilty, speaking via a German-Austrian interpreter. The first session on Monday was adjourned without the suspect saying anything because only a Russian interpreter was available at the court. 
The suspect's name in Russian spelling signals that he is originally from one of the former Soviet republics, more likely from a Muslim-majority country. Dovtaev was bearded and wearing a grey sweatshirt and tracksuit bottoms.
He has confessed that he had never traveled to Britain before and he is now in London thanks to help from a friend named "Othman" whose contact was stored in his mobile phone as "B". He said he knew Othman from his time in Chechnya. He admitted that he took pictures of the Iran International building but deleted them before his arrest. According to the indictment documents, he called two phone numbers, one Russian and the other Turkish.
Chief magistrate Paul Goldspring remanded Dovtaev in custody, to next appear at the Old Bailey on March 3. Michael Haggar was the prosecutor of the case and Seemsa Dosas was the defense attorney.
According to reports Dovtaev had in his possession several records containing information of a kind likely to be useful to a person committing or preparing an act of terrorism. These were seven videos depicting the outside of Building 11, Chiswick Business Park, as well as its security arrangements, contrary to section 58 (1) (b) of the Terrorism Act 2000.
Iran International was warned by authorities in November that its journalists were under threat from Iranian agents and the Metropolitan Police took measures to strengthen security around the network's office in the area.
Iran International's Maryam Moqaddam outside Westminster Magistrates' Court on February 15, 2023
Amid repeated threats by the Islamic Republic against Iran International's reporters, the UK government vowed in December to step up protection of London-based Iranian journalists.
British Foreign Minister James Cleverly said during a session at the parliament on December 13 that the Foreign and Commonwealth Development Office (FCDO), in partnership with the Home Office, had ensured that the Iranian journalists were protected by the British police.
"The UK remains absolutely determined to ensure that Iran does not intimidate people within this country. We will always stand up to the aggression from foreign nations," he noted, adding, "We will absolutely not tolerate threats, particularly towards journalists who are highlighting what is going on in Iran, or indeed any other individual living in the UK."
One day later, Iran's Intelligence Minister Esmail Khatib in a television interview repeated threats to "punish all those" who had a role in popular protests against the regime, wherever they might be.
Khatib on November 9 had said the Islamic Republic regards Iran International as "a terrorist organization," adding that its staff and anyone affiliated with the channel will be pursued by the Ministry of Intelligence all over the globe.
In November, Volant Media, the parent company of Iran International, said that two of its journalists had been notified of direct threats. It said in a statement the Metropolitan Police had formally notified both journalists that these threats represent an imminent, credible and significant risk to their lives and those of their families. Ken McCallum — the head of MI5, the UK's domestic counter-intelligence and security agency -- said on November 16 that UK authorities have discovered at least 10 "potential threats" since January 2022 to "kidnap or even kill British or UK-based individuals perceived as enemies of the regime."
Faced with nationwide antigovernment protests since mid-September, the Islamic Republic has blamed foreign-based Persian broadcasters such as BBC Persian and Iran International of "fomenting unrest", while all media in the country are under tight government control and present protesters as "rioters" and "terrorists".