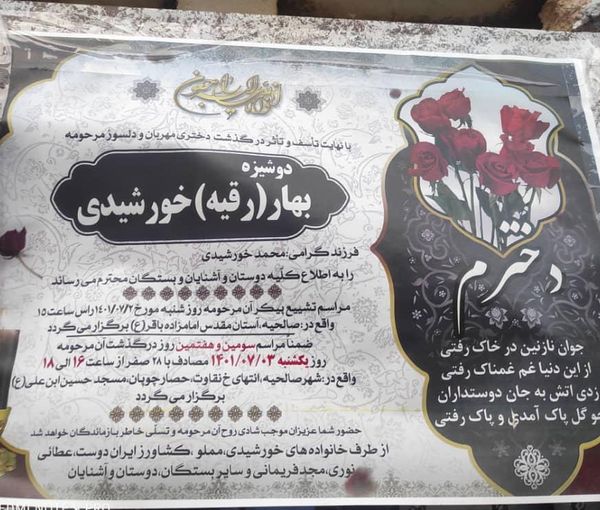 Exclusive: Story Of Bahar Who Died In Early Days Of Iran Protests
Bahar Khorshidi was an English and painting teacher who fell to her death from the fourth-floor window of her home when security forces came looking for her. 
According to information obtained by Iran International, 23-year-old Bahar had left home in Robat Karim town near the capital Tehran along with her 18-year-old sister Reyhaneh to distribute flyers with hashtags in support of Mahsa Amini and the motto of the current wave of protests "Women, life, liberty."
Those days were the early days of the protests, a few days after Mahsa was killed in police custody on September 16, triggering the biggest uprising the Islamic Republic has ever experienced. 
According to one of the neighbors, they were identified and chased by plainclothes agents, so they escaped to a tailor's shop they know in their neighborhood. From there, Bahar, who was suffering from heart problems, was taken home but before she returned home, the agents had raided their home and had detained her mother and sister and were taken to the office of the Intelligence Organization of the Revolutionary Guard in the city. 
A few hours later, on September 23, the agents who had chased Bahar and knew she was about to arrive home, raided their home again while only Bahar and her 11-year-old sister and eight-year-old brother were home. After a few minutes, in which it is still unclear what happened, Bahar fell from or was thrown out of the fourth-floor window.
According to Iran International sources, it is not clear if she threw herself down in fear of the officers, or was thrown during a scuffle with them, or the agents threw her down from the window.
A few hours after the incident, her mother and sister were released and they were told that "Bahar committed suicide and threw herself down".
One of the neighbors told Iran International that the building was surrounded by dozens of security agents after the incident, apparently in fear of a reaction by the people who were aware of the tragic event. 
Under the pressure of the security agents, Bahar was buried the following day in a local cemetery with numerous agents in attendance. Iran International sources say the cause of death of the young protester was announced as suicide, and the family left their city to live in a small town in northern Iran to get rid of the pressure by security forces who did not want them to talk to the media.
In addition to over 500 protesters who have been killed during nearly four months of unrest, more than a dozen detainees have been sentenced to death. The Islamic Republic has already executed four people over their participation in demonstrations. Security forces and the hardliner Judiciary have claimed that many of the dead protesters committed suicide or medical preconditions.