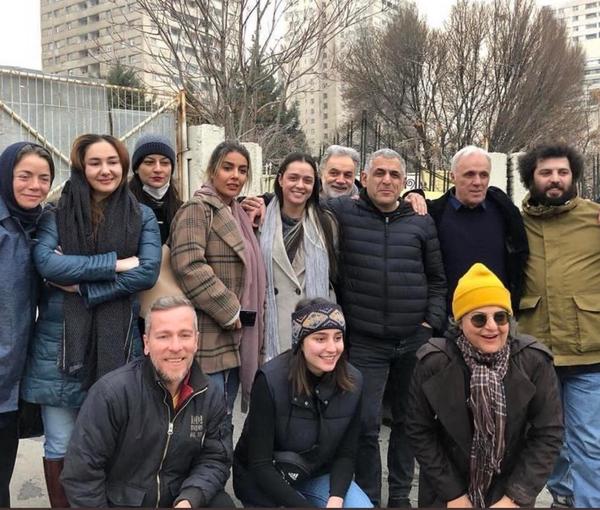 Protests Force Iran's Khamenei To Suggest Moderation Over Hijab
Disobedience of hijab rules has forced hardliners, most notably the Supreme Leader, to try to placate women with loose hijab, to draw support against opposition.
"I hail the women whose hijab [compliance] is weak but are loyal to the Islamic Revolution," former parliament speaker Gholam-Ali Haddad-Adel said in a program aired by the state television Monday.
Haddad-Adel who is father-in-law to Khamenei's son, Mojtaba, also insisted that the issue of the hijab should be "taken seriously" but not in a manner that it "polarizes" the society.
Haddad-Adel's remarks came a few days after Supreme Leader Ali Khamenei coined a new term, 'feeble-hijabed' in a speech last week to refer to women who wear the hijab but not strictly enough to be completely satisfactory. The speech was delivered to a hall filled with black veiled women.
Women in a Tehran shopping mall with scant hijab or no veil after the protests
But in fact, the protests have created a new reality that the regime has a hard time to counter. Many women appear without hijab in big cities taking heart from the protest movement. If the government uses force to stop them, it would enflame more opposition.
In the past four months many women from various walks of life, students and housewives to celebrities, have flouted the hijab rules. Actress Taraneh Alidousti, for instance, was arrested for posing on Instagram without a hijab on December 17 but as soon as she set foot outside the prison on bail last week, she again dropped her headscarf defiantly.
Popular actress Taraneh Alidousti unveiled with a sign "Woman, Life, Freedom"
Without any proof, Khamenei claimed that women whose approach to wearing the hijab is laid-back had "slapped the mouths of those who advertised calls to protests". This contradicts the earlier hysterical reaction of Khamenei's hardliner supporters to women appearing without a veil in public. In fact, many on social media commented that disobeying the hijab requirement was a slap in the face of the regime that spent decades trying to enforce it.
Abiding by hijab rules is the inevitable duty for all Muslim women, he stressed but also said that women should not be labeled as non-religious or anti-revolutionary if they failed to fully honor the hijab requirements.
The veil should be worn in a manner that very little from the face remains visible with clothing that totally covers and obscures the shape of the body and legs. Women should also avoid wearing bright colors.
However, one of the women chosen to speak in the meeting with Khamenei last week uncharacteristically wore a red headscarf and a tunic over a checkered shirt. She also appeared to be wearing some make-up and lipstick.
A woman speaking during a meeting of supporters with Khamenei
The speaker's outfit, which somehow resembled the Lebanese style of hijab, probably demonstrated the level of 'tolerance' to be shown by Khamenei when it came to forms of hijab other than the black veil.
Taking his cue from Khamenei, Parliament Speaker Mohammad Bagher Ghalibaf (Qalibaf) criticized the police over their harsh treatment of women with loose hijab the next day. "What right do we have to say that we won't let women use the subway if they are not wearing their hijab properly?" he asked.
Given their very aggressive approach to women's defiance of hijab rules, religious hardliners will be finding the attempt to appease parts of the society very difficult even if Khamenei appears to be behind the move. "Some piety-minded people were not pleased with the Leader's recent remarks about the hijab," the Hamshahri newspaper wrote Saturday.
In fact, there all all sorts of contradictory statements by officials. On Tuesday, the hardliner Judiciary appeared to demand stricter hijab enforcement. Whether the contradiction are a part of a cynical policy or the result of genuine disagreements among the top echelons of the regime, is not clear.
Before the 1979 revolution very few imagined that the future government of Iran would be an Islamic Republic run by clerics or that all women would have to wear the hijab, which some women wore by choice back then.