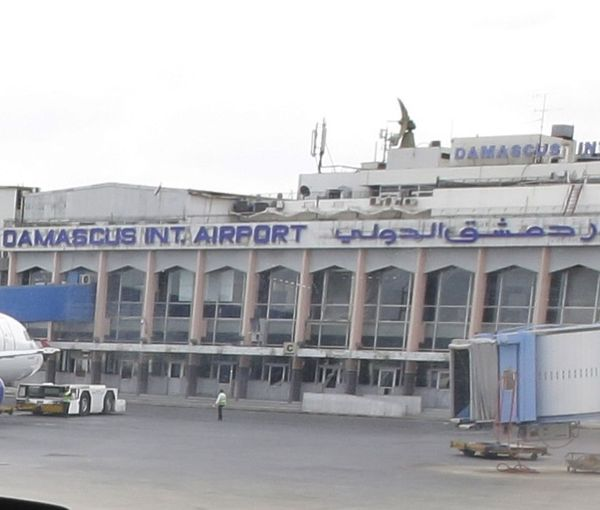 Israel Hits IRGC Targets In Syria As Russia Attacks Ukraine With Iran-Made Drones
Israeli air strikes targeting Iran-linked assets in Syria have been concentrating on airports as the Islamic Republic is trying to step up its presence while Russia is focusing on Ukraine. 
The Syrian army said on Monday that a volley of air-launched missiles, coming from the direction of Lake Tiberias in Israel, hit the Damascus International Airport at 2 am local time and briefly put the airport out of service. 
Missiles also hit targets in the south of Damascus, killing two members of the Syrian armed forces and causing some damage, the army said. Earlier, two regional intelligence sources said the strikes had hit an outpost near the airport of the Revolutionary Guard's Quds Force -- a division primarily responsible for extraterritorial military and clandestine operations – and its affiliated militias. 
Last year, Israel intensified strikes on Damascus International and other civilian airports to disrupt Tehran's increasing use of aerial supply lines to deliver arms to allies in Syria and Lebanon, including Hezbollah. Syria halted flights to and from the airport in June for nearly two weeks after Israeli strikes caused extensive damage to infrastructure. 
Since late in November, Syria and Iran have been deploying new air defense systems, including jamming and early warning systems, around Damascus to prevent Israeli airstrikes in the area. There are reports that the new systems were built by Korean and Chinese companies and provided by Iran as part of agreements reached between Damascus and Tehran.
On Monday, Iran's foreign ministry spokesman Nasser Kanaani decried the Israeli attack on Damascus airport, calling on the global community to condemn the violation of Syrian territorial integrity. "We were informed that the Damascus airport was hit by the Zionist regime; this action is condemned in our opinion and the United Nations and other institutions should condemn these aggressions," he said. 
Last week, a report by Asharq Al-Awsat said Iran is seeking to revive the expansion of its presence near Damascus, something it has always sought to do but was previously prevented by Russia. According to the report, the Islamic Republic's objective is to create another "southern suburb", commonly known as Dahieh, like the Hezbollah-dominated suburb of the Lebanese capital Beirut.
Now the landscape has changed as Russia seems to be needing its forces for the invasion of Ukraine, so it is evacuating the region with coordination of the Islamic Republic, which is supplying Moscow with drones and missiles to be used in against the Ukrainians. 
A local resident checks his house after a Russian missile strike, amid Russia's attack on Ukraine, in Kyiv, Ukraine December 31, 2022.
Also on Monday, a salvo of Iranian-made Russian drones targeted infrastructure in Ukraine's capital and surrounding areas, damaging energy facilities and causing some power outages, officials said. 
Ukraine's air force said that its air defense systems destroyed all of Russia's 39 Iranian-made Shahed drones that targeted Ukraine overnight in what it said was a "massive attack".
"Russians launched several waves of Shahed drones. Targeting critical infrastructure facilities. Air defense is at work," Kyiv Governor Oleksiy Kuleba said. 
Kyiv Mayor Vitali Klitschko said 40 drones "headed for Kyiv" overnight. Klitschko said 22 drones were destroyed over Kyiv, three in the outlying Kyiv region and 15 over neighboring provinces.