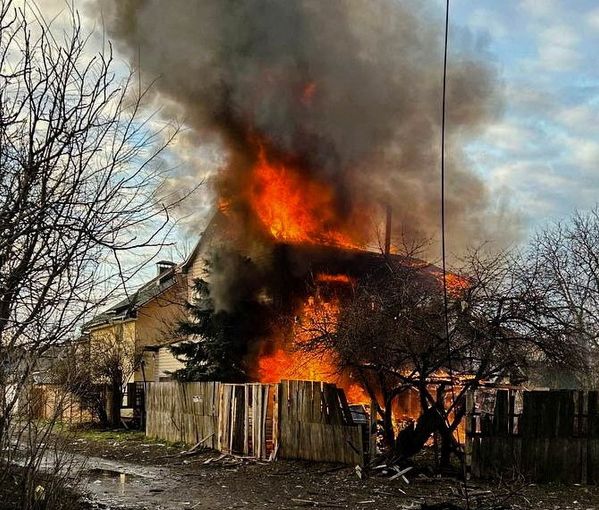 Ukraine Downs 16 Iran-Made Drones In Friday Russian Air Attack
Air raid sirens sounded in Kyiv at 2:00 am Friday as a swarm of Iranian-made drones were headed towards targets in the capital of Ukraine and other locations.
In a second day of Russian attacks on cities and civilian infrastructure, 16 16 Shahed suicide drones were sent over Ukraine, where military official said all were destroyed. Kyiv mayor Vitali Klitschko said 7 were aimed at city and that one administration building was partly destroyed.
On Thursday, Russia fired dozens of cruise missiles and drones at Ukraine, to disrupt electricity and water supplies on the eve of the New Year celebrations.
Ukrainian President Volodymyr Zelenskiy said most regions hit in Thursday's massive air attack suffered power outages.
The areas where loss of power was "especially difficult" included the capital Kyiv, Odesa and Kherson in the south and surrounding regions, and around Lviv near the western border with Poland, Zelenskiy said.
Iran's delivery of hundreds of Shahed-131 and 136 drones to Russia has enraged the West, which is assisting Ukraine to resist Moscow's invasion. Western officials have been citing Iran's weapons deliveries as one reason why they are not inclined to continue nuclear talks with Tehran.
NATO Secretary General Jens Stoltenberg Friday called on member states to supply more weapons to Ukraine.
"I call on allies to do more. It is in all our security interests to make sure Ukraine prevails and (Russian President Vladimir) Putin does not win," Stoltenberg told German news agency DPA.
Stoltenberg said that military support for Ukraine was the fastest way to peace.