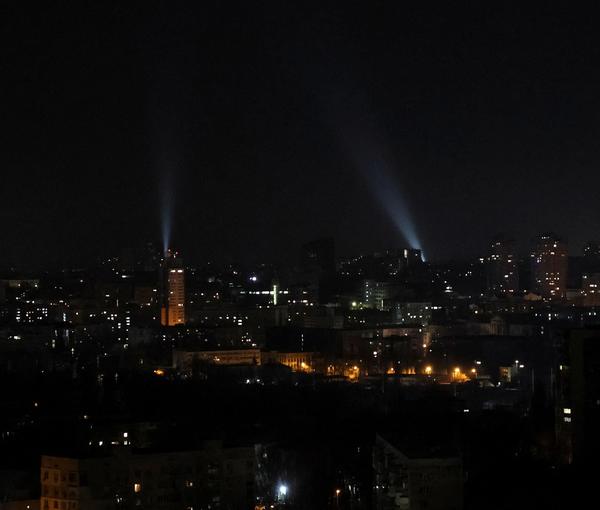 Iran Tries To Maneuver Amid Ukraine Drone Issue, Isolation
Iran claimed Monday that Ukraine has never submitted any proof of Iranian-made drones being used by Russia in the war, as Russia launched another large attack.
Ukraine said waves of Iranian-made Russian drones targeted infrastructure in Kyiv and surrounding areas on Monday, damaging energy facilities and causing some power outages, officials said, as Russia extended its bombardment into the second day of 2023.
Ukraine's air force said that its air defense systems destroyed all of Russia's 39 Iranian-made Shahed 131 and 136 drones that targeted Ukraine overnight in what it said was a "massive attack".
Iran's foreign ministry spokesman Nasser Kanaani in his weekly briefing implicitly denied the use of Iranian-made drones and said Kyiv has never produced any evidence.
Ukraine said December 13 that it provided Iran with the evidence. "We are not surprised by yet another objection from Iran regarding the supply of weapons to Russia. During the technical meeting, Ukrainian experts provided the Iranians with the sufficient evidence," Foreign Ministry spokesman Oleg Nikolenko said during an interview with Kyiv-based news agency Interfax-Ukraine.
Iran's decision to supply weapons to Russia has played a major role in the deterioration of its already frayed ties with Europe that has put nuclear talks with Tehran on the back-burner since evidence emerged of the kamikaze drones being launched by Russia in October.
Kanaani also spoke about these talks, having little to offer as a sign of any positive movement. After 18 months of negotiations to revive the 2015 nuclear accord known as the JCPOA the talks broke down in early September. The United States has said i tis not focused on the diplomatic effort any more because Iran presented last-minute extraneous demands.
Meanwhile, nationwide antigovernment protests in Iran have posed the most serious challenge to the Islamic Republic in its 43year history, with the economy in serious trouble. Consequently, Tehran has been showing renewed interest in reviving the nuclear talks, because the process, if successful, could end harsh US sanctions and bring a much-needed financial relief to the embattled regime.
Kanaani insisted that Iran is ready to conclude the nuclear talks based on a draft agreement prepared "after months of difficult talks," referring to what the European Union submitted in August to all sides to wrap up the negotiations. It was at this juncture when Tehran and Washington were giving their feedback to the draft that talks came to a standstill.
Kanaani also tried to put a positive spin on chances of improving relations with Saudi Arabia and Egypt, amid its regional isolation. Iran was not even invited to tripartite defense talks between Russia, Turkey and Syria last week, although it is a major player in the Syrian conflict. It has also not been invited to a similar meeting of foreign minsters to take place in the second half of January.
Asked about why Iran has not been invited, Kanaani simply replied that "Russia, Turkey and Syria are well aware of Iran's decisive role in the fight against terrorism in Syria and its support for the people and the government [of Syria]".