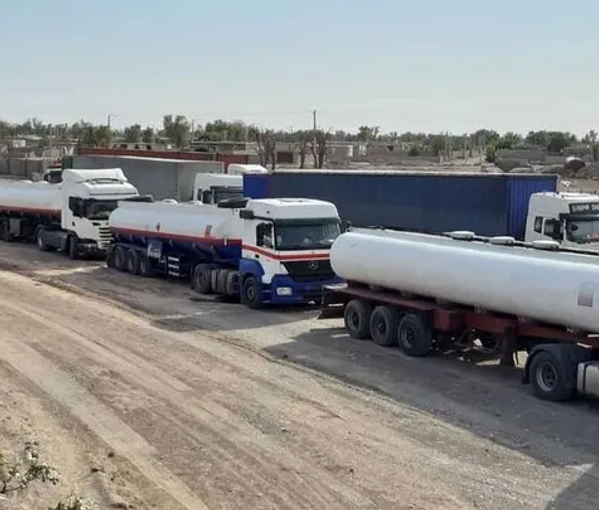 Protests Continue In Iran With Truckers' Strikes Leading The Way
Antigovernment protests in Iran continued Sunday mainly through nationwide strikes by truckers and protest rallies at universities during the day and street rallies through the night. 
Antigovernment protests in Iran continued Sunday mainly through nationwide strikes by truckers and protest rallies at universities during the day and street rallies through the night. 
Truck drivers and owners in many cities across the country did not move their vehicles on Sunday in one of the biggest strikes taking place in more than two months since the current wave of protests began following the death in police custody of 22-year-old Mahsa Amini. 
Truckers in several cities such as Esfahan, Bandar Abbas, Qazvin, and Kermanshah refrained from moving goods in support of the protests, sit-ins and strikes by industrial workers. Many people on social media describe the strike by the truckers as a significant blow to the Islamic Republic since it has the potential to cripple the economy. Some people say, "the truckers are leading the revolutionary uprising."
The strike is so costly for the regime that it has already started giving the drivers extra fuel subsidies to lure them back into work. 
In a video that became viral on Sunday, a driver is heard saying that if the government was able to give them subsidies before, why did they refuse to do so earlier in the year when they held another round of nationwide strikes. 
This round of strikes started Saturday after a call for a 10-day work stoppage by the Truck Drivers' Union, while numerous workers at steel and automobile factories also stopped work on Saturday. Workers at Esfahan Steel Company, Alvand SarmaAfarin Incorporation, Morattab Car Manufacturing, Safe Khodro Car Manufacturing Company, Qazvin's Pars Appliances Company, and some others joined many other factories already on strikes.
In recent weeks workers at dozens of industrial units, including automobile manufacturing, household appliances, heavy industries, petrochemicals, oil, gas, sugarcane, etc., went on strike. Shopkeepers and business owners in dozens of Iranian cities also closed their shops and went on strike many times for consecutive days in support of the uprising against the clerical regime.
The streets of many Iranian cities as well as the capital Tehran were also scenes of rallies after the sun set on Sunday, while calls for nationwide protests has been issued by different groups for the coming week. 
People in several neighborhoods of Tehran held rallies and set trash cans on fire while chanting slogans against the regime's crackdown on protesters. 
According to the US-based Human Rights Activists News Agency (HRANA), from September 16 until Friday, November 25, at least 448 protestors have been killed, of which 63 were minors. While the Islamic Republic has not provided accurate figures of those detained in the protests, the watchdog went on to say that at least 18,170 protesters have been arrested including 565 students.HRANA added that 156 cities and more than 140 universities across Iran have also been the scenes of anti-government protests.
However, the Islamic Republic has also released several people detained during protests or in support of the protesters. Among the prominent dissident figures who have been freed on bail are human rights activist and journalist Hossein Ronaghi and actress Hengameh Ghaziani. Ronaghi, who was transferred to hospital directly from Evin prison, had been on a hunger strike that lasted over 60 days.
Many people call their release a new propaganda trick by the Islamic Republic to divert attention from the bloody crackdown in Kurdish and Baloch cities while some believe the new moves are the consequence of the international measures against the Islamic Republic. The United Nations Human Rights Council on Thursday adopted a resolution based on which an international panel will be formed to investigate the violence against protesters in Iran.