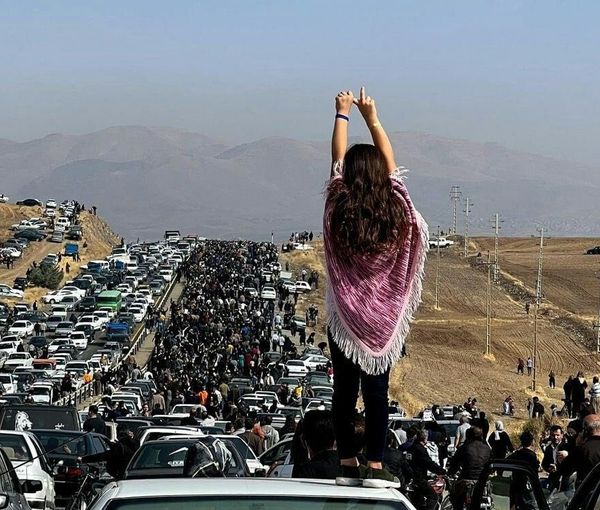 Iran Politicians Question Possibility Of Reforms
Some of Iran's hardliners including President Ebrahim Raisi and Expediency Council Member Gholamali Haddad-Adel have talked about the need to reform.
At the same time, a pragmatist politician says Iran's Constitution has made governments duty-bound to pave the way for political freedom.
Knowing that his call for reform will sound strange, Raisi said that "Wanting to bring about reforms does not mean retreating from our previous positions." It appears that Haddad-Adel also had the same concern as Raisi. According to Ebtekar newspaper, he said: "We shall not retreat."
However, Haddad-Adel made it clear that the Iranian parliament (Majles) and the likeminded government have already started a reform aiming to return to the early years of the Islamic revolution in the 1980s; something unlikely to be accepted by Iranian women and youths who have been demanding a regime change during the past two months.
Raisi has even gone as far as saying that those in his government who do not want reform should leave the cabinet at once. But he used a different term for reform: "Tahavol" which means evolution or change, rather than 'eslahat', which clearly means reforms.
The president's critics have said ironically that the first one who needs to leave the government for his inability to accept change is Raisi himself. However, his idea of reform appears to be more progressive than Haddad Adel's as Raisi has said that "using women's potentials is part of the reforms" he has in mind.
An undated photo showing Haddad-Adel next to Supreme Leader Ali Khamenei
Iran's traditional reformists however doubt whether the Islamic Republic is prepared for reforms. Former reformist lawmaker Naser Ghavami has reiterated in his recent interviews that contrary to the suggestion made by former reformist President Mohammad Khatami it is unlikely that the Islamic Republic would want to reform itself.
Ghavami pointed out that some of those in parliament who have talked about the need for reforms are the same individuals who called for the execution of detained protesters. "What kind of a reform is that?" he asked.
Ghavami also doubted whether young Iranians who have been taking to the streets would accept the kind of reforms Iran's so-called reformists have in mind. He pointed out that the regime did not allow even its own reformist president to pursue reforms in early 2000s. "They even did not allow him to amend the election law," he said.
Meanwhile, the Secretary General of Former Lawmakers Association, a well-known reformist figure Yadollah Eslami has said that "Official policies in Iran cannot convincingly respond to protesters' demands." He added that "Iranians are determined to follow the lifestyle of their choice, and nothing can stop them from following their demands." Eslami further reiterated: "Iranian society will by no means return to the situation before the death of Mahsa Amini," the young Kurdish woman who was murdered in custody in mid-September triggering the current uprising.
He added that the death of 10-year-old Kian Pirfalak has boosted the people's determination to follow their demand for change. He pointed out that all the problems Iranians are currently facing are the outcome of bad governance. This comes, he said, while all those who speak for the government continue to beat on the drums of despotism and totalitarianism.
In another development, pragmatist politician Farzaneh Torkan said in an interview with Mostaghel newspaper: "The people insist that they want an open political atmosphere and the freedom to elect whoever they want as the country's key officials."
Torkan reiterated that "a majority of Iranians had no candidate to elect in the latest Parliamentary [2020] and Presidential elections [2021]. It was obvious that such a situation would lead to profound and widespread dissatisfaction."
Torkan added that Iranian women are highly educated but their political demands have been ignored by hardliners for many years. "If those demands were met, we would not be witnessing the current protests," she said, adding that "the only way out of the current crisis is to give the right response to people's demands, but unfair accusations by hardliners and linking the protests to foreigners are not helpful."