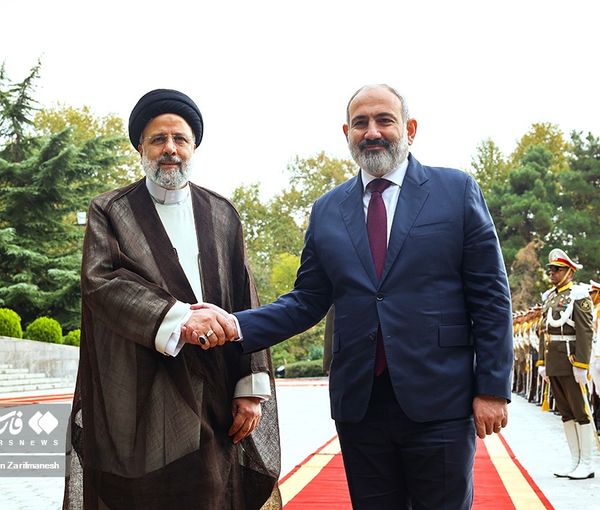 Armenian PM Visits Iran Amid Border Disputes With Azerbaijan
Amid territorial tensions between Armenia and Azerbaijan, the Iranian president hosted Armenia's premier in Tehran on Tuesday to strengthen relations with Yerevan. 
Nikol Pashinyan and Ebrahim Raisi held a joint press conference following their meeting, reiterating their goal to improve bilateral relations and sign documents for strengthening cooperation.
Raisi said he was sure the visit by the Armenian official will be a turning point in enhancement of bilateral relations, claiming that their trade exchanges have grown by 43 percent over the past few months. 
In October, the Islamic Republic opened a consulate in Armenia's Syunik province, which includes Armenia's narrow southern strip called Zangezur where it has a land border with Iran. 
Azerbaijan, backed by Turkey, demands a transit corridor through Syunik province to have access to its Nakhichevan Autonomous region without Armenian checkpoints.
However, Yerevan objects to the concept saying that it is a breach of the ceasefire signed after the 2020 Nagorno-Karabakh war, that Azerbaijan won, taking back vast territories that Armenia had conquered in the Nagorno Karabakh conflict in the early 1990s.
Iran supports Yerevan in this dispute as it might lose its only joint border with its de facto ally Armenia and Caucasus. In mid-September, Iran warned that it would not tolerate any seizure of territory from Armenia by Azerbaijan. 
Armenia accuses Azerbaijan of attacking its towns to avoid negotiations over the status of the mainly Armenian-populated enclave of Nagorno-Karabakh in Azerbaijan, an enclave which is inside Azerbaijan but populated mainly by ethnic Armenians.
Tehran in the past has also expressed alarm at alleged Israeli military presence in Azerbaijan.