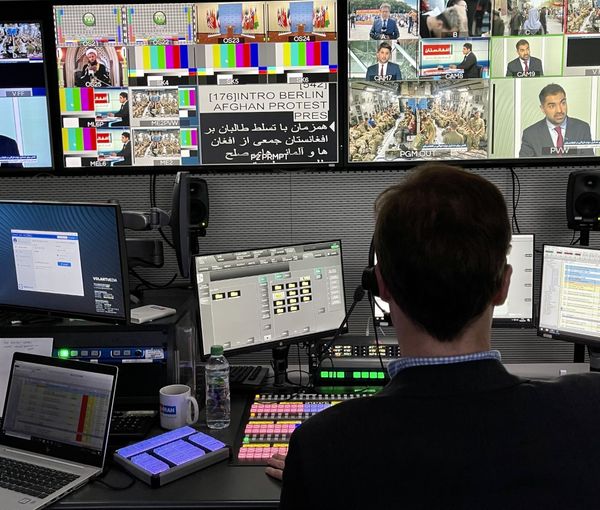 Tehran Calls Iran International Similar 'To A Terrorist Media'
Iran on Monday called Iran International's coverage of events "similar to a terrorist media" and vowed to follow up the issue through legal and diplomatic channels.
Foreign ministry spokesman Naser Kanaani in his weekly media briefing likened Iran International's coverage of recent protests to "a war room" and an "operations room against the nation of the Islamic Republic of Iran." This is the first time that an Iranian official uses the term "Islamic Republic nation", instead of the Iranian people or the Iranian nation.
The Islamic Republic regards broadcasting in Persian from abroad as hostile because media outlets such as the BBC Persian, Voice of America, Iran International, Radio Farda (RFE/RL) and others break the monopoly over news and information the government in Iran has imposed since 1979.
Since the ongoing antigovernment protests began in mid-September, all media in Iran that are either owned or controlled by the state have largely ignored or misrepresented the popular movement, calling it lawlessness and riots. The Islamic Republic wants to suppress the news about protests and has all but shut down access to the Internet.
The accusation against Iran International comes while earlier Supreme Leader Ali Khamenei called the protests "unimportant".
Kanaani insinuated that Iran International belongs to Saudi Arabia and that Tehran has complained to Riyadh about the network in the past.
Iran International and its sister channel, Afghanistan International, are "editorially independent television channels owned by Volant Media," a company based in London and owned by a Saudi Arabian/British citizen; it has no state backing or affiliation.