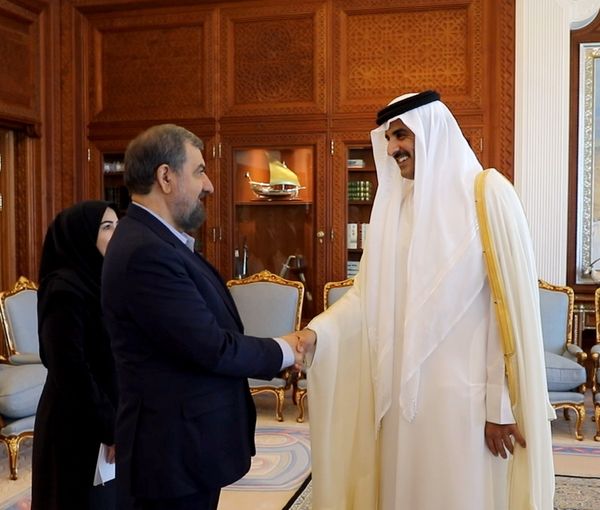 Argentina Calls For Iranian Vice President's Arrest During Qatar Visit
Argentina has called on Qatar to arrest visiting Iranian vice president Mohsen Rezaei over his alleged responsibility for the deadly 1994 bombing of a Buenos Aires Jewish center.
According to the official Telam news agency on Monday, special prosecutors have submitted a petition to Argentina's foreign ministry calling for all appropriate diplomatic levers to be pulled. 
The ministry "requested the collaboration of Interpol for the arrest," while Foreign Minister Santiago Cafiero "instructed the Argentine ambassador in Doha... to communicate urgently with the Qatari Foreign Ministry and report on the situation," a diplomatic source said. 
Ebrahim Raisi's vice president for economic affairs, Revolutionary Guard's commander Rezaei (Rezai) is wanted by Argentinian special prosecutors for alleged participation in the planning of the July 18, 1994 bombing of the Argentine Israelite Mutual Association, or AMIA, which killed 85 people and wounded 300.
In 2007, INTERPOL General Assembly upheld the unanimous decision made by the organization's Executive Committee to publish six out of nine Red Notices requested in connection with the AMIA.
The notices were requested by the Argentinean National Central Bureau (NCB) for Imad Fayez Moughnieh, the number two in Iran-backed Hezbollah, Iran's Former Intelligence Minister Ali Fallahian, Cleric Mohsen Rabbani – known as the chief architect of Iran's Latin American missionary network -- Iranian diplomat Ahmad Reza Asghari – aka Hamid-Reza Es'hagi and Moshen Ranjbaran -- and Revolutionary Guards commander and incumbent Interior Minister Ahmad Vahidi as well as Mohsen Rezaei.
Earlier in the year, Argentina condemned the presence of Rezaei in the inauguration of the new Nicaraguan president Daniel Ortega, describing it as an insult to the victims of the bombing of the Jewish center.