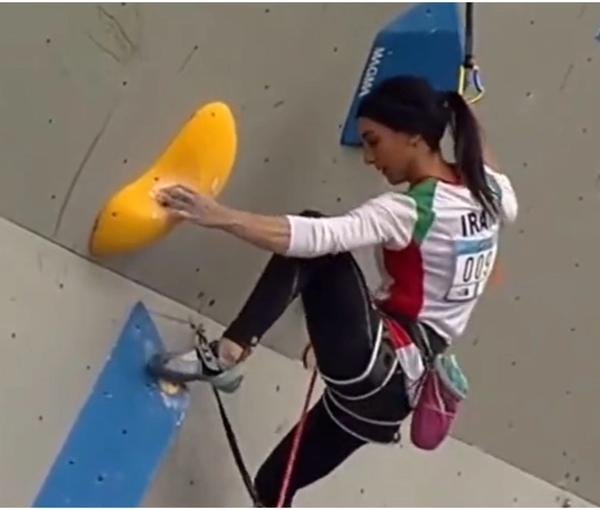 Iranians Plan Hero's Welcome For Climber Who Competed Without Scarf
Iranian athlete Elnaz Rekabi who represented Iran at the Asian Climbing Competitions finals in Seoul, competed without hijab, disobeying the Islamic Republic's restrictions for female athletes.
Rekabi, 33, made the symbolic gesture in support of anti-hijab and antigovernment protests that have been raging across the country since mid-September, when 22-year-old Mahsa Amini was killed in custody of hijab police.
Her move prompted widespread reactions from Iranians and foreigners, while people on social media are organizing a huge gathering to welcome her early on Wednesday morning when she is scheduled to arrive back in the country. People are worried that she would be arrested upon arrival. According to reports, the authorities have moved to transfer Rekabi to Tehran ahead of schedule so people cannot gather for her arrival.
Moved by Rekabi's act of defiance, activists and social media users are praising her move as a "Very powerful statement" that may bring about serious repercussions for her from the authorities.
Elnaz Rekabi is featured in several art pieces in support of the current uprising in Iran.
She previously won a bronze medal for boulder climbing at last year's competition and she has won more than 80 medals over the course of her career.
In 2019, boxer Sadaf Khadem attended a boxing match with the Iranian flag and without a headscarf. She had to cancel her return flight to Tehran after a warrant was issued for her arrest.