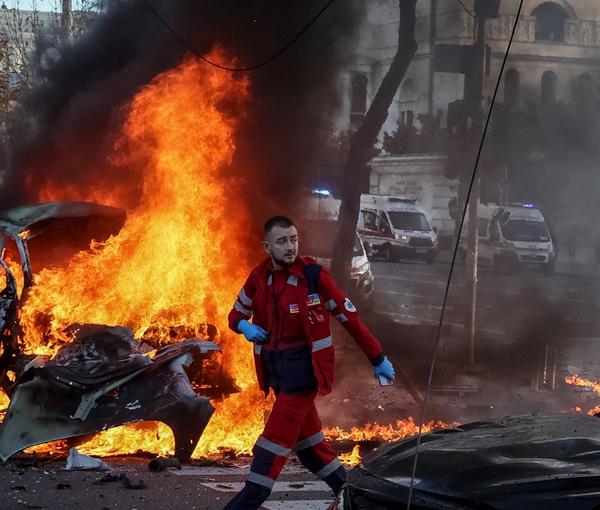 Ukraine Says Iranian Drones Used In Russian Strikes On Cities
President Volodymyr Zelensky said Monday Russia had used Iran-made drones responding to Saturday's attack on the Kerch bridge linking Crimea with the mainland.
After explosions in several Ukrainian cities Monday morning, ending months of calm in Kyiv and reportedly killing at least eight in the capital, Zelensky gave a video address on social media. "This morning is difficult," he said. "We are dealing with terrorists. Dozens of missiles and Iranian Shaheds. They have two targets: energy facilities throughout the country…[and] people. There may be temporary power outages now, but there will never be an interruption in our confidence ­– our confidence in victory."
Russian President Vladimir Putin said Sunday the truck-bombing of the Kerch bridge, Europe's longest and linking Russian-held Crimea to the mainland, was "a terrorist act" organized by Ukrainian intelligence agents and "aimed at destroying critical Russian civilian infrastructure."
Zelensky's claims over Iranian drones were the latest from Ukrainian leaders. Last week Oleksiy Kuleba, head of the Kyiv military administration, said six explosions 75km south of Kyiv in a military base at Bila Tserkva were caused by Iranian-made Shahed-136 delta-wing 'kamikaze' drones.
'Cheap alternative'
Ukrainian officials had earlier suggested the drones offer Moscow an easily-assembled, cheap alternative to high-precision missiles or piloted air raids, although Nataliya Gumenyuk, a spokeswoman for the Ukrainian military command, recently told AFP news agency the Shahed-136's effectiveness was "very low". In the Bila Tserkva attack, six drones were shot down, while another six crashed into buildings, injuring one soldier.
Iranian Shahed 136 drones, reportedly used by Russia in Ukraine
Tehran has denied supplying drones to Russia. Iran foreign ministry spokesman Nasser Kanaani last week said media reports were "baseless." US National Security Advisor Jake Sullivan claimed July Iran had agreed to supply drones to Russia, a warning repeated by officials several times. In September, the US imposed sanctions on several companies for helping or facilitating the drone transfers to Russia.
Ukraine is also lobbying for increased supplies of US weapons. Politico reported Monday that discussions on air-defense batteries would "loom large at the US-led Ukraine Defense Contact Group… in Brussels later this week." Ukraine's Defense Minister Oleksii Reznikov said "the best response to Russian missile terror is the supply of anti-aircraft and anti-missile systems to Ukraine" so as to "protect the future of Europe."
Ukraine seeks Israeli arms as rhetoric escalates
Ukraine is also keen to source arms from Israel, a top-ten global weapons exporter and the Middle East's main drone producer alongside Turkey. While Ankara has supplied Ukraine since 2019 with the advanced Bayraktar TB-2drone, Israel has been reluctant to arm Ukraine due to its generally good relations with Russia, a situation Zelensky claimed in September had left him "in shock." With parliamentary elections due November 8, Israeli politicians are also wary of alienating the Russian-speakers m around 15 percent of voters.
In a further sign of possible escalation in the ten-month Russia-Ukraine conflict, Belarusian President Alexander Lukashenko said Monday he had ordered troop deployment alongside Russian forces near Ukraine in response to what he said were planned Ukrainian "strikes" on the territory of Belarus. The Ukrainian military claimed Saturday Russia had deployed Iranian drones in Belarus.
"Tell the president of Ukraine and the other lunatics: if they touch one meter of our territory then the Crimean Bridge will seem to them like a walk in the park," Lukashenko said.
Justifying Russia's actions in a televised address, Putin said Russia would respond again if Ukraine hit Russian territory. "The Kyiv regime, with its actions, has put itself on the same level as international terrorist organizations… To leave such acts without a response is simply impossible."
Russia has also threatened the use of tactical nuclear weapons in Ukraine. Zelensky October 6 called for "preemptive strikes" by Nato so that Russia knew "what will happen to them if they use it," leading to Russian charges that the Ukrainian president wanted to turn the conflict nuclear.