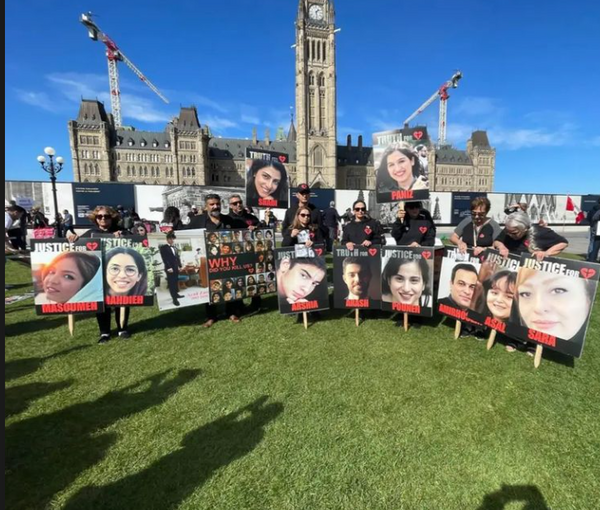 IRGC Victims' Families Urge Canada To Expel All Regime Elements
The families of victims of Ukrainian flight PS752, shot down by Iran's Revolutionary Guard in January 2020, held a demonstration in Canada, calling for tougher measures against Iran.
Chanting slogans against the Islamic Republic, the protesters gathered in front of the Canadian Parliament in Ottawa on Tuesday, the thousandth day since IRGC shot down the plane over Tehran and killed all passengers and crewmembers onboard.
The spokesperson of the association of victims' families, Canada-based activist Hamed Esmaeilion, whose daughter and wife were killed in the tragic event, called for the expulsion of all the agents and officials affiliated with the Islamic Republic as well as their family members who have immigrated to Canada.
Criticizing the Canadian government, Esmaeilion said the regime's politicians, military and security personnel and their families have turned Canada into a "safe haven" for themselves and should be "deported without delay."
Prime Minister Justin Trudeau also issued a statement on the occasion, saying,"One thousand days ago today, the Iranian regime unlawfully and horrifically shot down passenger Flight PS752, cutting short the lives of the 176 innocent people on board," adding, "Canada and its Coordination Group partners are committed to holding Iran accountable, in accordance with international law."
In a joint statement for the occasion, the International Coordination and Response Group for the victims of Flight PS752, Canada, Sweden, Ukraine and the United Kingdom said, "We renew our demand that Iran fulfills its international legal obligations and ensures transparency and justice for its actions."
The airliner was shot down by two air-defense missiles fired by the IRGC as it took off from Tehran's Imam Khomeini International Airport, killing 63 Canadians.