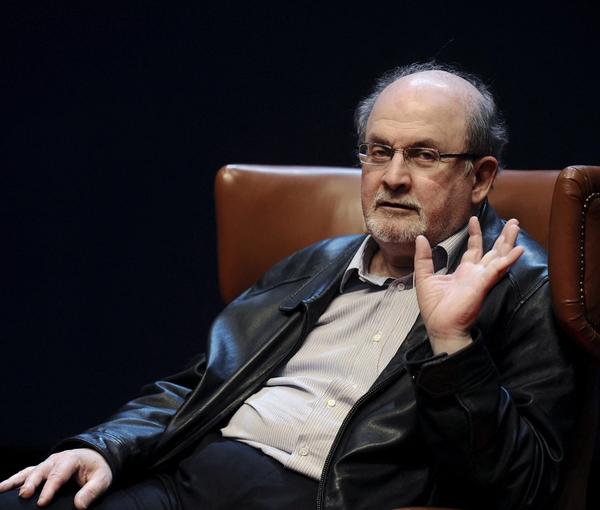 Iran Denies Links With Rushdie Attacker As Accusations Mount
Iran's foreign ministry on Monday denied any links with Hadi Matar, the man who stabbed author Salman Rushdie last week in New York, nearly killing him.
The ministry's spokesman Nasser Kanaani repeated Iran's position that Rushdie had insulted Prophet Muhammed and is guilty. "Salman Rushdie exposed himself to popular outrage by insulting Islamic sanctities and crossing the red lines of 1.5 billion Muslims," Kanaani said.
"During the attack on Salman Rushdie, we do not consider anyone other than himself and his supporters worthy of reproach and condemnation...No one has the right to accuse Iran in this regard."
Secretary of State Antony Blinken was the first senior US official to mention Iran in relation to the attempted murder in a statement on Sunday.
Amid nuclear negotiations with Tehran, President Joe Biden avoided mentioning Iran in his statement on August 13 condemning the attack on the renowned British-American author.
At the same time, Vice News reported on Sunday that the 24-year-old suspect Hadi Matar had been in contact with elements of Iran's Revolutionary Guard, according to European and Middle Eastern intelligence sources.
Earlier police had disclosed that Matar's social media activities showed his affinity for Shiite extremist causes espoused by Iran, and even praise for the Revolutionary Guard.
Praising Rushdie's life-long defense of freedom of expression and the press, Blinken said, "I am reminded of the pernicious forces that seek to undermine these rights, including through hate speech and incitement to violence.," and went on to mention Iran.
"Specifically, Iranian state institutions have incited violence against Rushdie for generations, and state-affiliated media recently gloated about the attempt on his life. This is despicable."
Hadi Matar in police profile photos
Iran's foreign ministry's Kanaani on Monday said, "We categorically and officially deny" any links with the suspect. "No one has the right to accuse the Islamic Republic," he said.
Since the knife attack last Friday [August 12], Iran International reported in detail about reactions by hardliner and government-owned media in Iran, praising a fatwa or edict issued in 1988 by then-Supreme Leader Ruhollah Khomeini condemning Rushdie to death. There was even direct praise for the assailant, with the flagship ultraconservative paper Kayhan, published under the supervision of Supreme Leader Ali Khamenei, saying "a thousand bravos" to Matar.
Top Iranian officials, however, have remained silent as talks to restore the 2015 nuclear agreement, the JCPOA, have reached a critical stage and Tehran is expected to respond to a proposal submitted to all parties by the European Union.
Media reports last week claimed that the Biden Administration has made concessions to Tehran, possibly even on the issue of lifting existing sanctions on the Revolutionary Guard (IRGC).
The administration's Iran envoy Rob Malley tried to dispel concerns that the US was ready to lift sanctions on at least parts of the military-intelligence organization, which controls Tehran's regional policies and actions supporting militant groups.
Vice News quoted a NATO counter terrorism official from Europe who said the attack on Rushdie had all hallmarks of a "guided attack", meaning that a spy agency or a terrorist network nudges a supporter toward committing a specific act, without getting directly involved in the operation itself.
Iran's Revolutionary Guard (IRGC) and its extra-territorial unit the Qods (Quds) Force have extensive experience and networks throughout the world both in espionage and in nurturing militant individuals and groups. Their focus is on Shiites and they are aided by their strongest proxy force, the Lebanese Hezbollah, which has extensive networks in Latin America and fertile ground in Canada and the United States among Shiites.
Vice News also reported that the US is trying to find information from Lebanon about Matar's possible links in the country after he travelled there and according to his mother returned a different person.
Hardliners in Iran who hailed the attack also threatened that former Trump administration officials would be next on the list of targets. Already, the US Justice Department last week said that former National Security Adviser John Bolton had been targeted for assassination.