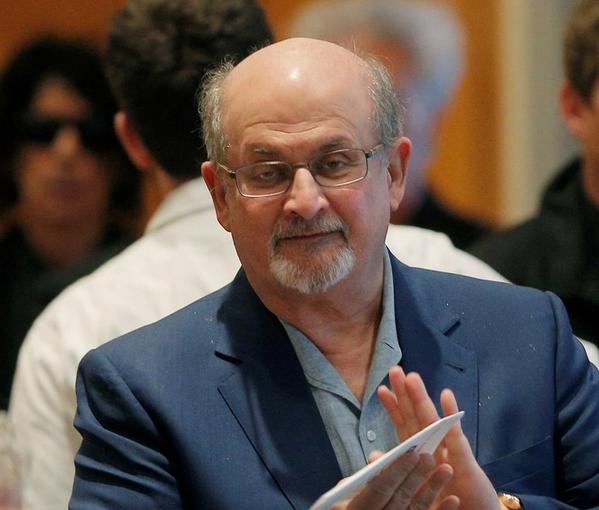 Iranian Praise For Attack On Rushdie Leads To Outcry
Iran's hardline media doubled down on praise for the attack on Salman Rushdie as many condemned the stabbing by a man sympathetic to Shiite extremism.
Iran's government and top officials have not reacted to the attack in New York on Friday on the Indian born author of Satanic Verses, but hardline media have openly welcomed the act, praising the assailant and calling it "divine vengeance". They have also suggestedthat the attack maybe a US or Israeli plot to discredit Iran and spread Islamophobia.
Jam-e Jam, a newspaper run by the state broadcaster IRIB on Sunday bore the headline "Devil's Eye Blinded" with a graphic on its frontpage, showing Rushdie's head with devil's horns. Kayhan, a hardline newspaper, ran the headline "Salman Rushdie Smitten by God's Vengeance: Trump and Pompeo Next in Line".
The head of the state broadcaster and the managing director of Kayhan are both Supreme Leader Ali Khamenei's appointees.
Kayhan argued that the attempt on Rushdie's life was a "Sharia-based execution" for apostasy and claimed that world powers "are cunningly trying to prevent the execution of divine commands" by calling them "acts of terror". "The United States, Israel, and the West will not be able to stop the Muslim umma (nation) [from carrying out divine commands] no matter how much noise they make about Rushdie's execution."
Front page of Jameh Jam newspaper on August 14, 2022
The reformist Arman-e Emrouz newspaper, however, focused on what it called "New Round of Iranophobia Codenamed Salman Rushdie". It interviewed two commentators who said "US Republicans and the Israeli lobby" are blaming Iran for the attack to prevent Tehran and Washington from resolving the nuclear issue. "We should be expecting a new wave of damage to Iran as well as the Democrat administration in the US," Ali Bigdeli, one of the commentators said.
US President Joe Biden, in a statement Saturday, called the attack "vicious". "Salman Rushdie—with his insight into humanity, with his unmatched sense for story, with his refusal to be intimidated or silenced—stands for essential, universal ideals. Truth. Courage. Resilience ...we reaffirm our commitment to those deeply American values in solidarity with Rushdie and all those who stand for freedom of expression," the statement said.
Hadi Matar, the assailant who viciously stabbed Salman Rushdie
Biden's critics have pointed out that nowhere in the statement has he mentioned Iran or its bounty on Rushdie. "Finally, POTUSweighs in with a statement on Salman Rushdie, as he should. But again, there is no addressing of Iran's incitement or policy consequences. The question remains: How will the US deter Tehran-directed or inspired attacks against Americans?" Policy Director at United Against Nuclear Iran, tweeted Saturday.
"That Rushdie should be attacked in America no less is especially chilling, coming as it does just weeks after an assassin was arrested on the doorstep of prominent dissident Masih Alinejad and just days after revelations that Iran commissioned a terror attack on John Bolton," Kylie Moore-Gilbert, British-Australian academic previously held hostage in Iran for over two years, said in a tweet.
Rishi Sunak, one of two conservativecandidates seeking to become Britain's next prime minister, said Saturday that the attack on Rushdie should be a "wake-up call" for the West about the threat which Iran still poses.
Sunak also suggested that the response by Iranian politicians and senior figures strengthens the case for designating the IRGC as a terrorist organizationwhile warning about the futility of attempts to restore the nuclear deal. "We urgently need a new, strengthened deal and much tougher sanctions, and if we can't get results then we have to start asking whether the JCPOA is at a dead end."
Rushdie who was hospitalized on Friday with serious injuries after being repeatedly stabbed at a public appearance in New York state, is off a ventilator and his condition is improving, his agent said on Sunday.