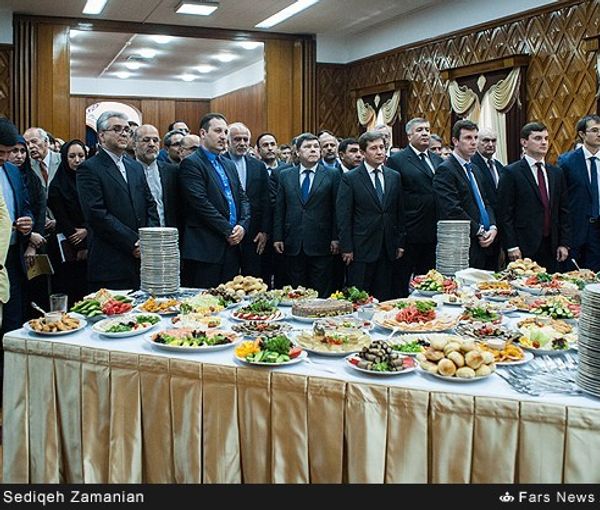 'Russia Day' Banquet In Tehran Embassy Astounds Iranians
Several high-ranking Iranian officials attended a ceremony at the Russian embassy in Tehran to commemorate the occasion of Russia Day, which is marked on June 12.
Iranian Petroleum Minister Javad Owji, Ali Akbar Salehi, the former head of the Atomic Energy Organization of Iran and a former Foreign Minister, as well as several military commanders took part in the ceremony on Wednesday. 
Many social media users criticized the Iranian officials who attended the feast, saying never had such high-ranking political and military officials attended the Russia day ceremonies. 
Also on Wednesday, Iranian President Ebrahim Raeisi held a phone call with his Russian counterpart Vladimir Putin to discuss the need to continue diplomatic efforts to reach an agreement in Vienna on salvaging the 2015 Iran deal. 
Year-long talks in Vienna came to a halt in March reportedly over Iran's demands to remove its Revolutionary Guard from the US list of Foreign Terrorist Organizations.
Russian ambassador in Iran Levan Dzhagaryan (left) and Iranian Petroleum Minister Javad Owji
A meeting of the UN International Atomic Energy Agency (IAEA) which is in progress in Vienna this week will vote on a resolution proposed by the United States, the United Kingdom, France and Germany to censure Iran for its lack of cooperation with the international nuclear watchdog. Russia and China have voiced their opposition to the resolution.
Ali Akbar Salehi, the former head of the Atomic Energy Organization of Iran and a former foreign minister (right)
Former deputy Foreign Minister Abbas Araghchi (center)