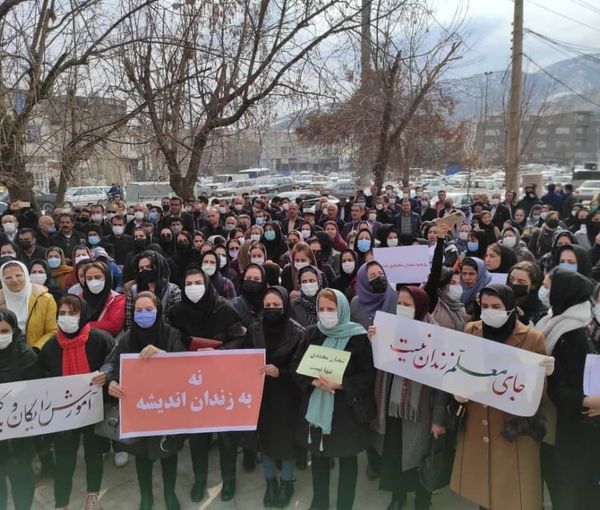 Demanding Higher Pay, Iran Teachers Continue Strikes And Protests
Thousands of teachers staged another round of nationwide protests Saturday to demand higher salaries and the release of colleagues arrested in previous rallies.
The demonstrations were held in at least 100 cities and towns, while teachers have announced their rallies and strikes will continue until Thursday, the end of the week in Iran.
According to Teachers' Trade Associations, which organized the protests, security forces "attacked" a rally in the city of Karaj, beating teachers and arrested 15 (video) Videos posted on social media show crowds shouting slogans against unfulfilled promises by the authorities and asking for an imprisoned teacher to be freed. "From Tehran to Khorasan; Teachers are in prisons," they chanted.
As in earlier protests, teachers gathered in front of the parliament building in Tehran and the provincial offices of the education ministry, protesting against ministry directives asking principals to warn teachers not to leave work to take part in protests and sit-ins.
Two years of deep recession in Iran following the introduction of United States 'maximum pressure' sanctions in 2018 led to sharp increases in living costs and to labor unrest. According to social media posts, officials in the labor ministry also held a protest Saturday. In January hundreds of firefighters and staff from the judiciary took to the streets in several cities. Prison guards have also picketed to protest their salaries.