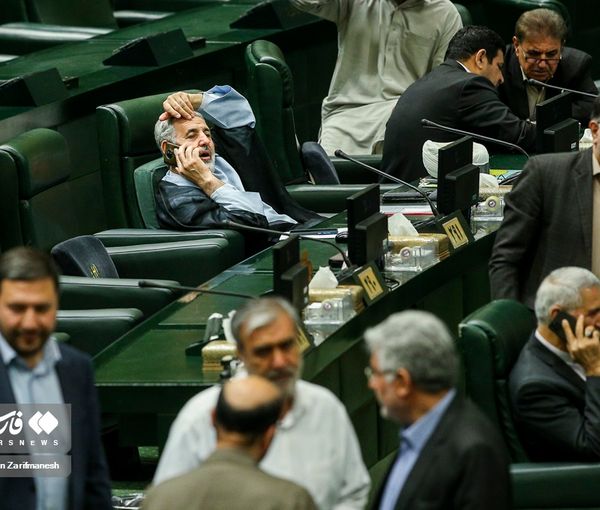 Iran's Hardliners Work On Draft Bill To Further Restrict Elections
A prominent politician in Iran says none of the country's political factions can do anything to ensure a high turnout in the upcoming parliamentary election.
Mohammad Ali Abtahi, former reformist President Mohammad Khatami's chief of staff told Rouydad24 website on Wednesday that "if the people do not feel that it is a free election, they will not take part in it." 
"My understanding is that the Guardian Council is not going to soften its policy on the disqualification [of reform-minded candidates]. It is not likely that those who have gone out of their way to create a unified political system will come short of their hardliner policies."
Other Iranian media outlets such as Khabar Online have also pointed out during recent days that ten months before the vote in March 2024, there is no election mood in Iran unlike previous rounds when campaigns started at least a year before the elections. In the meantime, many Iranian officials including Supreme Leader Ali Khamenei have expressed concern about a likely low-turnout next March. 
Mohammad Ali Abtahi, the chief of staff of former reformist President Mohammad Khatami
Khamenei told Iranian officials in late March that a high-turnout election will make the country powerful and will stop international pressures on the Islamic Republic. He called for a "healthy election" as he was aware of criticisms of the way the latest Iranian elections were held in 2020 and 2021 presumably under his supervision. 
Many politicians, particularly reformist figures such as Abtahi and Mohsen Mirdamadi, the leader of banned reformist party Mosharekat have said that the regime in Iran has lost its social capital, a polite word for legitimacy, as a result of the disputed presidential election of 2009 and the protests that have rocked Iran since 2017. 
Abtahi added that those who currently hold the power in Iran are not interested in increasing the turnout in the upcoming elections, as only a low turnout can ensure their victory.
Meanwhile, lawmaker Gholamreza Nouri Ghezeljeh told Khabar Online website on Wednesday that the current ultraconservative-dominated parliament is working hard in extraordinary sessions to pass an amendment to Iran's Election Law to serve the hardliners by giving even more power to the conservative-dominated Guardian Council to disqualify any candidate who does not belong to the ultraconservative camp. 
Lawmaker Gholamreza Nouri Ghezeljeh
Ghezeljeh characterized the new legislation as "a law against the republican system," however, he said that hardliners are working hard to enact the legislation before the upcoming elections. 
On Tuesday, prominent conservative politician Mohammad Javad Bahonar had said that the Majles should not be involved in changing the Election Law, as the incumbent lawmakers tend to manipulate the legislation to ensure their own re-election. 
Ghezeljeh said that in the draft amendment the Guardian Council has been given the power to disqualify even those who get elected. He said such a legislation will weaken the parliament altogether. 
Some Iranian politicians have also expressed concern about the next presidential election which usually takes place in the year after the Majles election. 
Former lawmaker Gholam AIi Jafarzadeh Imenabadi
Former lawmaker Gholam AIi Jafarzadeh Imenabadi said in an interview on Wednesday that President Ebrahim Raisi's chances for re-election is limited. "He can score only if they put him in front of an empty goal post," he said. 
Imanabadi reiterated that "In a competitive election neither Raisi nor 90 percent of current lawmakers have any chance to get re-elected."