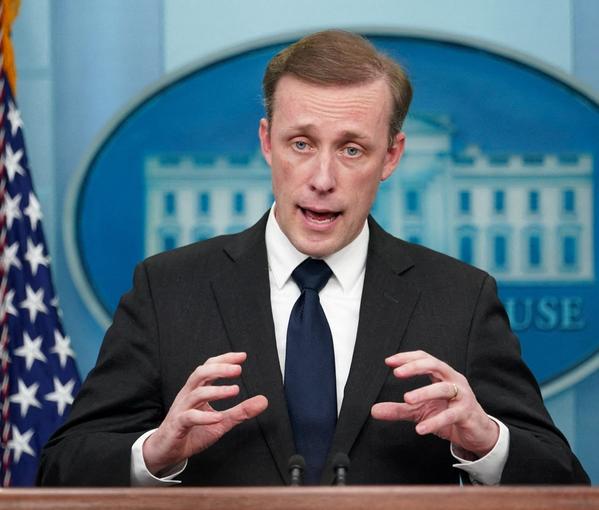 Sullivan Heading To Riyadh, Highlights Deterrence And Diplomacy With Iran
As US National Security Advisor Jake Sullivan Thursday announced his visit to Saudi Arabia, he reiterated that Washington will not allow Iran to obtain nuclear weapons.
Sullivan, speaking at the Washington Institute for Near East Policy, said he would be traveling to Saudi Arabia on Saturday for talks with Saudi leaders. A source told Reuters Sullivan is expected to meet with Saudi Crown Prince Mohammed bin Salman.
Sullivan repeated the administration's position that the United States will "take the necessary action to ensure that Iran does not acquire a nuclear weapon," but still seeks a diplomatic outcome to the challenge posed by Tehran.
"But we have made clear to Iran that it can never be permitted to obtain a nuclear weapon. As President Biden has repeatedly reaffirmed, he will take the actions that are necessary to stand by this statement, including by recognizing Israel's freedom of action," Sullivan told the gathering of Middle East experts at the institute.
Sullivan mentioned that a new nuclear deal with Iran should see all the enriched uranium "whether it's five bombs or whatever it may be of 60 percent—that that also goes by the board."
However, the question of how to deter Iran from destabilizing the region remained largely unclear, except fostering integration between allies and pursuing reduction of tensions, alluding to the agreement between Tehran and Riyadh to restore diplomatic relations. 
However, after the Chinese-brokered deal in March, Iran openly called for attacks against Israel by its Palestinian and other groups largely dependent on Tehran's support. A series of terror attacks inside of Israel led to a military flare-up and days of rocket attacks by Palestinians from Gaza and Lebanon.
Iran, calling these attacks a great achievement, has been urging more strikes by its proxy forces.
In recent days the Revolutionary Guard has also seized two oil tankers in the Persian Gulf waters, while the US maintains a strong naval presence in the area.
Marshall Islands-flagged oil tanker Advantage Sweet, which, according to Refinitiv ship tracking data, is a Suezmax crude tanker which had been chartered by oil major Chevron and had last docked in Kuwait, sails through Bophorus Istanbul, Turkey, February 11, 2023.
Speaking about the administration's policy in the region, Sullivan highlighted the strategy of an "interconnected Middle East" empowering US allies and partners, which would reduce "the resource demands on the United States".
"So we're actively building an integrated air and maritime defense architecture in the region. This is something that's been talked about for a long time, but it's now happening through innovative partnerships and through technology," he said.
Robert Satloff, the executive director of the Washington Institute asked Sullivan about how the United States can deter Iran from further expanding its nuclear program, as administration officials have admitted that Iran can be a few weeks from having enough enriched uranium to build a bomb.
Sullivan responded by highlighting military cooperation with "our partners—including working very closely with Israel," and holding joint military drills, and recognizing Israel's right to act. 
He added that "we are going to continue to take action to, yes, deter Iran from getting a nuclear weapon, and then to seek a diplomatic solution that puts this on a long-term pathway of stability."