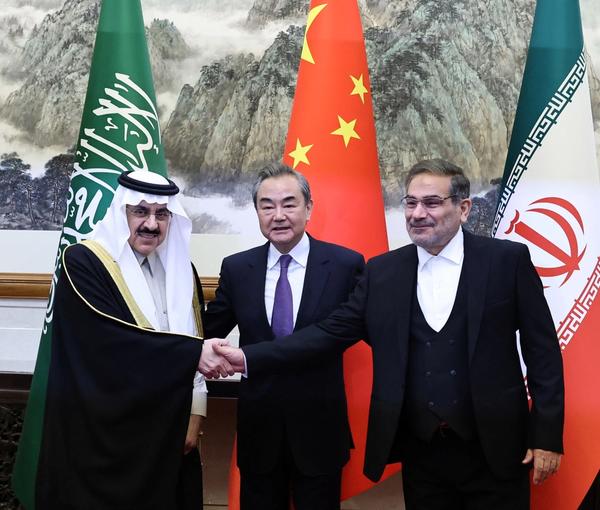 Iran Invites Saudi King, Says US No Longer A Superpower
Iran said Monday it has officially invited Saudi Arabia's king for a visit, after the two countries agreed to restore relations in a China-brokered deal in March.
"Iranian President (Ebrahim Raisi) has sent an invitation to the Saudi king in return for an invitation by Riyadh for him," Nasser Kanaani, spokesman of Iran's foreign ministry told a news conference.
After years of bad relations that fueled proxy conflicts across the Middle East, where Tehran and Riyadh backed opposite sides from Yemen to Syria, the Shi'ite revolutionary Iran and the Sunni-led Kingdom reached an agreement to end a seven-year diplomatic rift.
Technical delegations from both countries are preparing to officially reopen their missions, and Tehran said these missions would restart their activities by May 9, Iran's semi-official Tasnim News agency reported.
The Chinese brokered deal is seen as a sign of Beijing's growing influence in the region at the expense of Washington that for decades has protected rich Arab oil exporters and tried to contain threats from the Islamic Republic of Iran.
Kanaani in his briefing claimed that the United States is no longer a superpower and "international circumstances have changed." The era of "America as a superpower has come to an end," he said and the Islamic Republic took advantage of the change, opting 'for regional convergence to secure common interests."
Analysts say that Saudi Arabia was interested to end the conflict in Yemen where for eight years it has been involved in a war against Iran-backed Houthis.
Iran in turn faces a serious economic crisis partly triggered by crippling US sanctions since 2018, when former President Donald Trump withdrew from the Obama-era JCPOA nuclear deal demanding tough concessions from Tehran.
The Biden administration launched indirect talks with Iran to revive the JCPOA, but after 18 months of negotiations the process reached a deadlock last September, leaving the sanctions in place.
Kanaani speaking about the nuclear issue Monday insisted that Tehran never left the negotiating table with the West. He maintained that Tehran is ready to continue talks based on a draft agreement that was presented by the European Union last August.
Iran has continued high-level uranium enrichment since early 2021 when it began talks to revive the JCPOA, and has amassed enough fissile material to reach the stage of weapons development in a few weeks, according to most estimates.
Meanwhile, there is an ongoing dispute with the International Atomic Energy Agency (IAEA) over Iran's secret nuclear activities prior to 2003.
IAEA chief Rafael Grossi paid a visit to Tehran in early March, just before a meeting of the Agency's board to iron out differences.
After his visit he claimed that an agreement was reached with Tehran to resolve differences and boost IAEA's monitoring of Iran's nuclear activities.
However, follow-up meetings announced by Grossi never took place and there has been no news of any progress.
The result of his trip was that IAEA's board never censured Iran for its violation in its March meeting, in what appeared to be another diplomatic maneuver by Tehran to buy time.
Kanaani claimed Monday that contacts with IAEA continue, without providing any details. Grossi has been largely silent since his trip to Tehran.