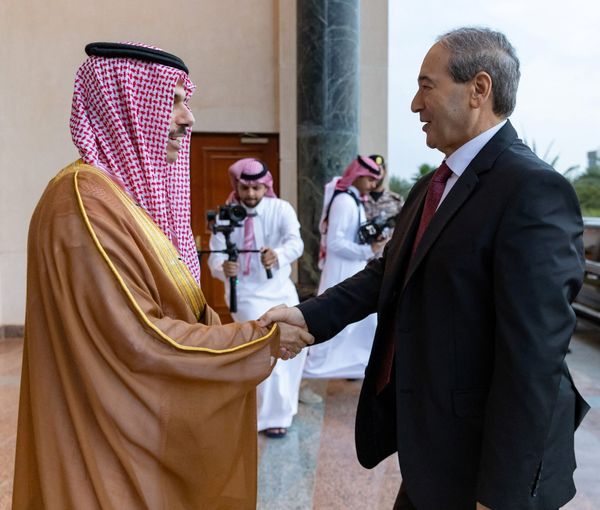 Syria's Top Diplomat Visits Saudi Arabia Amid Thaw In Relations
Saudi Arabia and Syria's foreign ministers on Wednesday welcomed a thaw in bilateral ties, weeks after Riyadh reached a deal to resume relations with Iran.
The two sides agreed steps to resume consular services and flights and agreed to cooperate to fight drug trafficking and facilitate Syria's return to the Arab fold.
Syrian Foreign Minister Faisal Mekdad landed in the Saudi Red Sea city of Jeddah on Wednesday in the first visit by a senior Syrian diplomat to the kingdom in more than a decade, a major sign that Syria's regional isolation is nearing an end.
Saudi Arabia cut ties with Damascus amid Syrian President Bashar Al-Assad's brutal crackdown on peaceful protests in 2011 and backed rebel groups that fought to remove Assad from power. Syria was also suspended from the Arab League.
The resumption of Saudi-Syrian ties marks the most significant development in moves by Arab states to normalize links with Assad.
Assad, with the help of his main allies Iran and Russia, regained control over much of Syria, and Saudi Arabia has said isolating him was not working.
In a joint statement at the end of Wednesday's visit, both sides agreed on the need for the Syrian state to assert its control over all its territories "and end the presence of armed militias".
Mekdad's trip to Jeddah came two days before Saudi Arabia hosts another meeting of regional foreign ministers that will discuss Syria's return to the Arab League.
Saudi Arabia plans to invite Assad to the Arab League summit Riyadh is scheduled to host on May 19, a move that would formally end his regional isolation, sources have told Reuters, though it is unclear if there is Arab consensus on the matter.
Reporting by Reuters