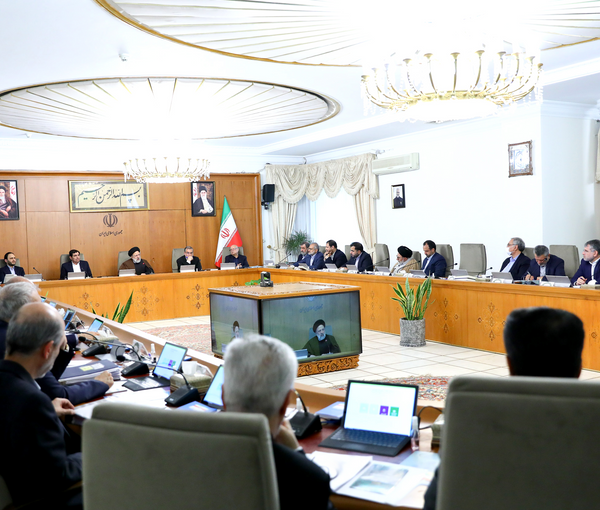 Changes Introduced By Raisi May Be Too Little, Too Late
Iran's President Ebrahim Raisi Tuesday, finally responded to calls for reshuffling his economic team although the changes appear to be too little, too late.
Government spokesman Ali Bahadori Jahromi said on Tuesday that Davoud Manzour has replaced Massoud Mirkazemi as the head of the Planning and Budget Organization (PBO), Jalal Sadatnejad has been removed from his post as Agriculture Minister.
Bahadori said that the changes are meant to solve the people's problems. However, he further explained that former (PBO) Chief Mirkazemi was replaced because he suffered from heart disease adding that he will serve as an adviser to the government.
The new PBO Chief Manzour has a controversial track record as the former head of Iran's Tax Organization where he threatened reporters when they asked why IRGC entities such as the Khatam ol-Anbia did not pay taxes. Manzour was subsequently criticized by reporters for not knowing enough about the structure of the organization he headed and for exerting pressure on whistle-blowers instead of paying attention to what they said.
Davoud Manzour, the new head of the Planning and Budget Organization
Like most of Raisi's aides, Manzour is also an Imam Sadeq University alumnus, an institution run by hardliners, where he studied economics. All Imam Sadeq students are chosen from among regime loyalists who are then promoted after graduation. Manzour has been heading various government financial offices since 2006.
Conservative commentator Mohammad Mohajeri, one of Raisi's critics who has been calling for changes in the government's economic team for more than 18 months now, once again criticized the president for choosing his aides from among a small circle. He made the comment shortly before the changes were announced but his criticism is still valid.
Mohajeri said in an interview with Entekhab news website that one of the problems of the Raisi administration is that Iran's political, economic and cultural elites are not willing to work with it. He further charged that the 7,000-page economic plan Raisi was boasting about before his election was blank "but he even does not have the right individuals to implement what was written on those blank papers," he said.
He said, a review of the output of all the state-owned news publications shows that very few experts have spoken about the government's plan because they do not wish to belittle themselves and stoop to the level of the government. Mohajeri further doubted that Raisi would introduce better individuals to replace the current officials because he does not have better individuals around him. Raisi has no choice other than working with inefficient individuals who have studied at the Imam Sadeq University.
He suggested that Raisi should reach out for help to elites outside the government, especially to recruit qualified people to replace his incapable economic team.
Lawmaker Massoud Pezeshkian
Meanwhile, lawmaker Massoud Pezeshkian criticized the administration for repeatedly blaming the previous government. Pezeshkian told ILNA that Raisi cannot reach any good result by insisting to work with non-experts.
Welcoming changes in the government, Pezeshkian pointed out that both the officials and the policies should change as both are problematic. Most of the officials in the government lack the right expertise and experience and are not motivated for what they are expected to do.
In another development, Iranian economist Hossein Raghfar pointed out in an interview with reformist Jamaran News website that one of the reasons why Raisi cannot address a problem such as inflation is that it serves the interests of Iranian oligarchs. They have cornered lucrative trade rights and they can more easily secure scarce hard currencies when the Iranian rial has lost most of its value.