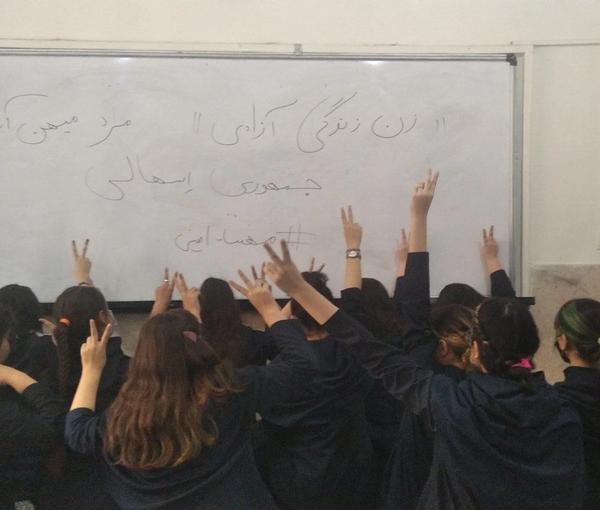 Iran Scholars, Educators, Discuss Characteristics of Generation Z
Experts in Iran concur that Generation Z, men and women born after 2000, were the driving force in recent nationwide protests and the Women, Life, Freedom movement.
In an April 1 report, Khabar Online website has interviewed 8 social scientists and commentators about Generation Z's role in Iran's new revolution. Mostafa Mehraeen, a sociologist told the website that "This generation has a thorough understanding of life and human beings and wishes to spread peace on earth." Mehraeein further described Generation Z as "a generation that is an expert on philosophy without having studied it."
Referring to views that this generation is cut off from the past, Mehraeein said that various generations are not separate from each other. In fact, we live in the past, present and future at the same time. "We are facing a generation that has been educated by the previous generation," he said.
Demographer Shahla Kazemipour
Demographer Shahla Kazemipour also pointed out that the Generation Z is not a separate entity far from the mainstream society. But they do not need to be in the streets to see embezzlements and financial corruption by officials. They can see everything on social media from behind their computer monitors.
She added, "While the previous generation came from families with up to 7 children, Generation Z comes from smaller families who can spend more on their children's education. At the same time, unlike the previous generation, they have access to communication tools such as the Internet. So, their world is bigger than Tehran or Iran. That is why they are socially more mature than the previous generation.
Mohammad Taghi Fallah, a teacher, said, "Generation Z is looking for its own independent identity. In their world, the individual is an active member of the society and his or her uniqueness is the most eye-catching characteristic element.
Sociologist Ahmad Bokharaei
Ahmad Bokharaei, a sociologist, said the members of Generation Z were in the forefront of the protests in Iran. They were brave and had very little to lose. Although protesters were from different age groups but Generation Z's presence was more visible.
He warned that if their voice is not heard, the chances are that they will be disillusioned and left with no more motivation. This can even lead them to commit suicide or try drugs.
Another sociologist, Mehdi Ghavamipour, told Khabar Online that although there is a generational gap in most other societies, the characteristics of Iran's ideological society has made the divide between Generation Z and previous generation wider. He added that the conflict between traditions and modernity has made Generation Z's interests, demands and prejudices different from those of other generations.
He added that some scholars see this as a gap between the official culture and the pop culture as well as the impact of the crisis of inefficiency in the government. This new generation, he said, stresses the significance of modern life and ignores or totally rejects traditional concepts. They follow a different lifestyle than the previous generations.
Mohammad Reza Niknejad, a teacher, said the main characteristic of this generation is its bravery and knowledge. They have proven that older individuals are not necessarily more knowledgeable than the youths. In fact, in many families, the elderly have realized this difference and adapted their lifestyle to what their children want.
Iranian sociologist Mostafa Abroshen
Iranian sociologist Mostafa Abroshen, on the other hand, says Generation Z is a manifestation of the post-modern approach in the Iranian society. This generation challenges and questions both traditions and modernity. They demand pluralism and oppose unilateralism. They also challenge the traditional society's sanctities. They look down at the kind of obedience that was prevalent in the traditional families.
Nearly all these characteristics have been observed during more than six months of protests in Iran when the new generation challenged the values propagated by Iran's traditional clerics and the regime during the past four decades.
Nargess Malekzadeh, a teacher, observed that "Generation Z was not born during the 2022 protests. They are the children of a silently protesting previous generation that nurtured the new generation."