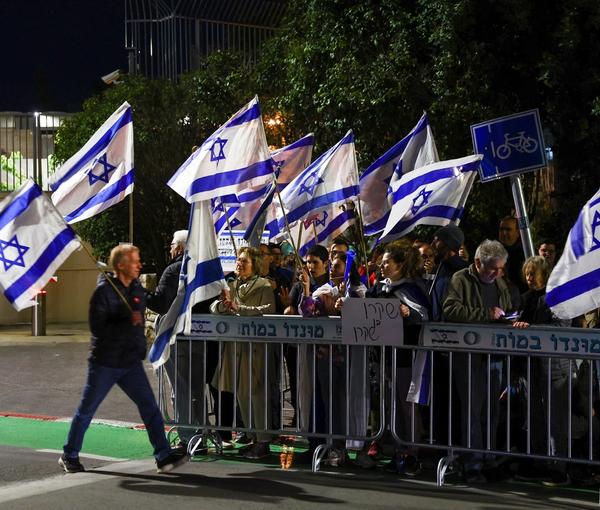 Rejoiced By Israel's Turmoil, Iran Seeks To Use The Opportunity
Archfoes Israel and the Islamic Republic are both mired in turmoil but apparently domestic unrest has not stopped Iran from menacing Israel, which is bolstering regional ties. 
Developments during the past few days show that the Iranian regime is infuriated by the growing ties between Israel and regional countries and is trying to take advantage of the protests in Israel to strike blows. 
As Israel opened its embassy in Azerbaijan on Wednesday, Baku's State Security Service announced that it was investigating "a terror attack" that injured lawmaker Fazil Mustafa, known for his strong anti-Iranian views. He has been hospitalized after receiving wounds to his shoulder and thigh after being shot with a Kalashnikov assault rifle Tuesday night. 
Relations between Azerbaijan and Iran, which has a large population of ethnic Azeris in its northwest, have been strained in recent months after Baku announced plans to open formal diplomatic ties with Israel. In January, Azerbaijan closed its embassy in Tehran after what it called a "terrorist attack" that killed the embassy's head of security.
Moreover, Greek police said Tuesday they had arrested two men from a group that was planning to attack an Israeli restaurant in Athens, a case which Israel said was orchestrated from Iran. The two men, 27 and 29 years old, are Iranian born with Pakistani background. Israel's intelligence service Mossad, which aided Greek authorities with intelligence on the terrorist operation, said, "The investigation exposed that the operation in Greece was part of a vast Iranian network, operated from Iran across many countries."
During the joint press conference after the meeting with his Azerbaijani counterpart Jeyhun Bayramov on Wednesday, Israeli Foreign Minister Eli Cohen said, "Iran is a regional threat... Israel and Azerbaijan must share the same understanding regarding the Iranian threat. Iran threats our region, and creates non-stability in the Middle East by supporting and financing terrorism. We should jointly act against Iran. We should not allow Iran to expand its nuclear opportunities."
Israeli Foreign Minister Eli Cohen
In an online conference with other foreign ministers on Tuesday Cohen said, "Iran's involvement in the war in Ukraine is a wake-up call for democracies across the globe." Ukrainian Foreign Minister Dmytro Kuleba, US Secretary of State Antony Blinken and the foreign ministers of France, the Czech Republic, Argentina, Zambia, Liberia, Malawi, Japan and Italy were also attending the meeting.
Also on Tuesday, the spokesman of Iran's Revolutionary Guard (IRGC) called on Palestinians to take advantage of ongoing protests in Israel to destabilize the country. Brigadier General Ramezan Sharif said that "the occupied territories are the scene of confrontation of a movement within the Zionist regime that wants to stand against the totalitarianism of another wing. This is a golden opportunity for the Palestinian fighters to take advantage of the situation."
IRGC spokesman Ramezan Sharif
Iranian officials have rejoiced at the political dispute over Prime Minister Benjamin Netanyahu's effort to overhaul the country's judicial system, with hardliner media, mostly controlled by the IRGC, publishing daily articles about a "looming civil war" in Israel and predicting its demise in the near future.
Earlier in the month, Israel's National Security Council released a statement, cautioning Passover travelers over the possibility of being incidentally harmed in Iranian plots abroad. This year, the holidays – starting on April 5 – coincides with the Muslim fasting month of Ramadan, which usually sees a surge in terrorist attacks by extremist Islamists. 
Israel's National Security Council claims the Tehran will continue its attempts to harm Israelis around the world, especially in the countries near Iran in broader West Asia. It emphasized that Iran and its proxies present a particular threat in the United Arab Emirates, Georgia, Azerbaijan, Turkey and Bahrain, as well as Iraq's Kurdistan region, where Israelis are prohibited to enter according to Israel's own laws. 
During the past two years, Israel foiled attacks organized by the IRGC-affiliated agents in Georgia, Turkey, Cyprus and more, the statement read. 
In June 2022, Turkish forces foiled an attempt by Iran's intelligence agents to kill Israelis in Istanbul, arresting eight men. Also in June, security forces in Thailand reportedly thwarted a plot by an Iranian agent to establish a terror cell in the country and carry out attacks against Israelis. In October 2021, Israel said that an Iranian plot against an Israeli businessmen in Cyprus was foiled.
The decades-long shadow war between Iran and Israel across the Middle East and beyond is not so covert anymore, with both countries becoming more vocal – yet tactical -- about their activities against each other.
Since July 2020, a series of spectacular attacks began against Iran's well-defended nuclear and weapons development sites, as well as key individuals, such as top nuclear official Mohsen Fakhrizadeh in November 2020. Hackings, mysterious fires, sinking of ships and disruption of infrastructure continued until the daylight assassination of a key official, Colonel Hassan Sayyad-Khodaei on May 22, 2022, in Tehran. The man was reportedly the commander of a secretive unit tasked with terror operations abroad.