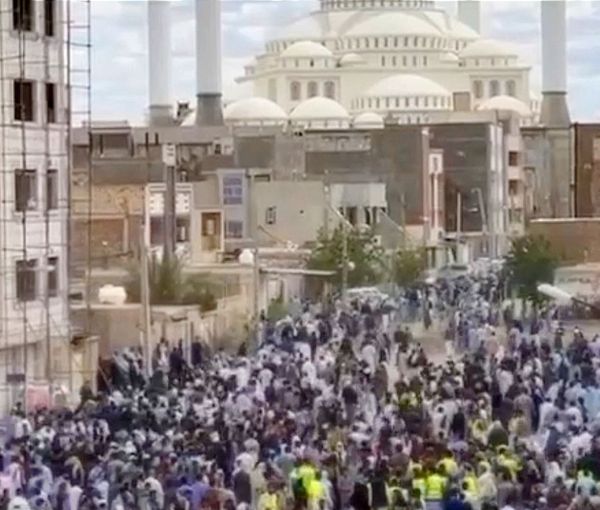 Killing Protesters Was Biggest Mistake By Regime - Sunni Leader
Protests erupted again in Iran's Sunni majority region Friday as community's prominent religious leader slammed Islamic Republic for its violence and lack of real elections.
During his Friday prayer sermons, which was the first in the fasting month of Ramadan, Mowlavi Abdolhamid said, "In the past, we have had elections in which we elected representatives and presidents, but they were not real elections, they were appointments." 
In a free election, people have a choice to vote for whoever they deem fit to represent them, but in Iran the Guardian Council puts forth a number of their cherrypicked insiders, who are not capable of running the country, he said. 
He further described killing of protesters and harsh treatment of people detained during over six months of nationwide rallies against the regime as a "big mistake" and a "grave sin."
Mowlavi Abdolhamid, the most influential Sunni cleric in Iran
"There are protests everywhere in the world, but they (authorities) listen to the people and do not kill them like they did in Iran. Killing protesting people in Iran was a big mistake. They should not have hit and killed people with gunfire. Many people went to prison and the detainees were treated harshly, which was a painful and regretful incident," he said.
Abdolhamid went on to say that neither religion, nor sect, should be a factor when it comes to elections, noting that the only people who should be in managerial positions are those who can make Iran prosperous, not like the current officials who only care about filling their own pockets.
Although street protests are not as frequent as the past few months, peoples' hearts are "wounded and in pain," the cleric maintained.
Portraying the previous Iranian year as a grim year with lots of ups and downs that led to the creation of the current protest movement, he said, "The people of Iran felt difficulties regarding many issues, they saw themselves in trouble and failure in life, they were under the most severe economic pressures that threaten their livelihood."
In addition to economic issues, the outspoken Sunni leader said systematic corruption, as well as unpopular domestic and foreign policies were other factors led the people to revolt. 
This Friday again authorities shut down internet access in Zahedan, the provincial capital of Sistan-Baluchestan where Abdolhamid delivers his sermons and it is home to the country's Sunni Baluch minority of up to two million people. Cyberspace watchdog NetBlocks confirmed the major disruption to internet service, saying that the incident follows an ongoing pattern of network blackouts targeting protests during Friday prayers. 
Following his sermons, people of the city held rallies to protest against the Islamic Republic for the 25th week in a row, chanting anti-regime slogans like "We Don't Want a Child-Killing Regime." The Sunni Baluch population have taken to the streets in Zahedan every Friday after prayers since September 30 when government forces cracked down on protesters and killed more than 80 protesters, known as Bloody Friday. Earlier in the day, Haalvsh website, a local news outlet that monitors rights violations in Iran's Baluchestan region, said 121 of the protesters who were killed in Zahedan and Khash on Bloody Friday were identified.