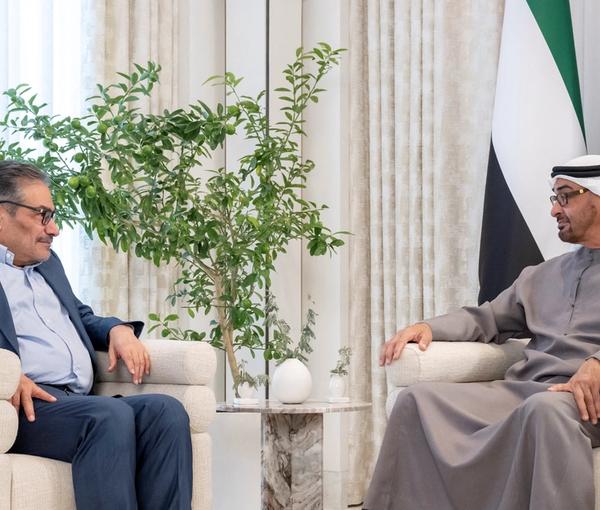 Iranian Media Upbeat About Tehran's Regional Détente
Iranian media appear to be upbeat about the possibility of further breakthroughs in Iran's relations with its Arab neighbors around the Persian Gulf.
Reformist daily Shargh wrote in a commentary headlined, "A season to end disputes" that reports have been coming in since mid-day March 10 when China brokered a deal between Tehran and Riyadh to resume diplomatic ties.
An Iranian parliamentary delegation met with Bahraini counterparts in Manama on Saturday, and Iranian Security Chief Ali Shamkhani visited the United Arab Emirates on Thursday. Manama severed its ties with Tehran one day after Saudi Arabia cut its diplomatic relations in 2016.
Russian sources observed that while the deal with Saudi Arabia was brokered by China as mediator, attempts to improve ties with Bahrain and the UAE are being made through bilateral negotiations.
Officials in Bahrain have attached high importance to restoring ties with Tehran which are likely to start by resuming flights between Tehran and Manama, Shargh newspaper in Tehran wrote. It quoted Iranian West Asia watcher Hossein Amiri as saying that "Saudi satellite countries" including Libya, Maldives, Egypt and Jordan might follow suit soon. The expert told Shargh that the moves signal a new chapter in Iran's foreign policy which is now focused on regional détente.
Saudi Minister of State and National Security Adviser Musaed bin Mohammed Al-Aiban, meets the Iranian Rear Admiral Ali Shamkhani, the secretary of the Supreme National Security Council, in Beijing, China, March 10, 2023.
Shargh also noted that an end to the war in Yemen is the beginning of an end to conflicts and tension in the region. In two weeks' time, everyone in the region will remember the 9th anniversary of the war in Yemen. Iranian diplomat Ali Asghar Khaji told a visiting UN official in Tehran earlier this week that the Islamic Republic has always said that there is no military solution to the conflict in Yemen.
Mohammad Saleh Sadri, another expert on regional affairs, told Shargh that although all previous efforts to end the conflict in Yemen have failed, the agreement between Tehran and Riyadh has changed the situation. Nonetheless, he added that ending the war is no easy task.
Meanwhile, Arab media in London have pointed out that Egypt might be the first country outside the Persian Gulf region to begin to mend its ties with Tehran.
Another reformist daily, Etemad, wrote on Wednesday that Shamkhani hosted by UAE National Security Adviser Tahnoun bin Zayed Al Nahyan in Abu Dhabi, will also discuss the status of efforts to reach a nuclear deal with world powers as well as the issue of sanctions.
The UAE is usually one of the first points of reference for Iran to expand international trade.
However, it is not clear how Abu Dhabi might be able to help Iran with its troubled international trade as long as US sanctions remain in place, although according to some Iranian officials, at times, the UAE has gone out of its way to help Iran circumvent the sanctions.
Some officials in the UAE have said that Shamkhani's visit was planned long before the agreement with Saudi Arabia, but it was delayed as he went to China first to have the deal done.
Iran and the UAE have a long-standing issue over the ownership of three Persian Gulf islands, although the two side are usually reluctant to discuss it. Ironically it was brought up during President Xi Jinping's visit Saudi Arabia in December and deeply annoyed some Iranians including state officials.
Another Etemad report suggested quoting Amwaj Media that the resumption of ties with Bahrain will be a priority for Manama as after the re-opening of the Saudi embassy in Tehran, possibly in May, Bahrain will be the only regional country without an embassy in Iran.
However, according to Amwaj Media, the two sides do not wish to do much propaganda about the resumption of their ties. The agency quoted an unnamed local official as saying "There is no serious unresolved problem between Bahrain and Iran."