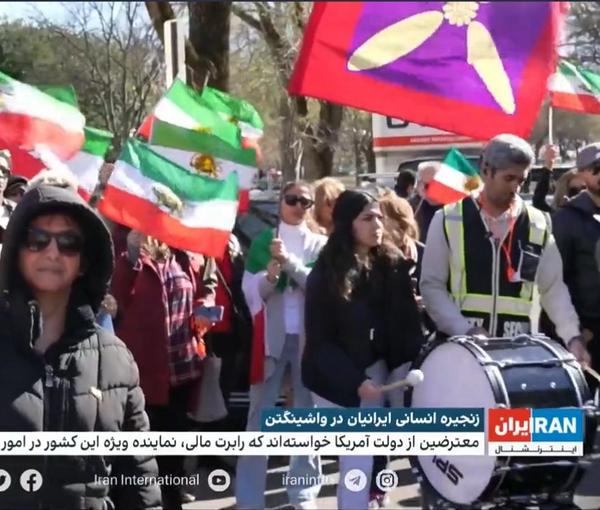 Iranians In DC Urge Biden To Fire Iran Envoy, Robert Malley
A group of Iranian expatriates have held a protest outside the office of US Special Envoy on Iran, Robert Malley, in Washington DC to call for his dismissal.
Tens of Iranians gathered for the rally on Saturday in front of Malley's office calling on the Biden administration for his dismissal.
Malley has been under fire for his soft approach in dealing with the Iranian regime in the past months and is one of those blamed for the breakdown in nuclear talks last year.
Back in October, he stated in a tweet that Iranians were protesting to have the Islamic Republic "respect their human rights and dignity," a statement Iranians refuted, claiming he undermined the wider message that Iranians want a new, democratic government and not respect from an oppressive regime.
Iranians feel Malley is out of touch with the needs of Iranians and do not trust his hand in taking the nuclear talks to the next level. "He underestimates the levels the regime will go to," said one protester who asked not to be named. "He has no idea what living under this oppression is like."
Protesters plan to hold weekly events outside the State Department to demand Malley's dismissal.

Another participant told Iran International that such events show the helplessness Iranians in the diaspora feel, unable to express their anger with the regime and its brutal crackdown on innocent civilians exercising their right to protest.
After his tweet in October, New-York based activist Masih Alinejad, demanded Malley resign. "By continually misrepresenting Iranian's rejection of Islamic Republic, he is hurting the US administration standing among the people of Iran.," Alinejad said.
In response to the criticism, Malley told Iran International at the time: "Neither I nor the US government can claim to speak for protesters. Only they can do that, and I'd never intend to imply otherwise."